Gifts of cash, rooftop solar and a security system will help Requity's work bridging the gap between vocational education, training and the workplace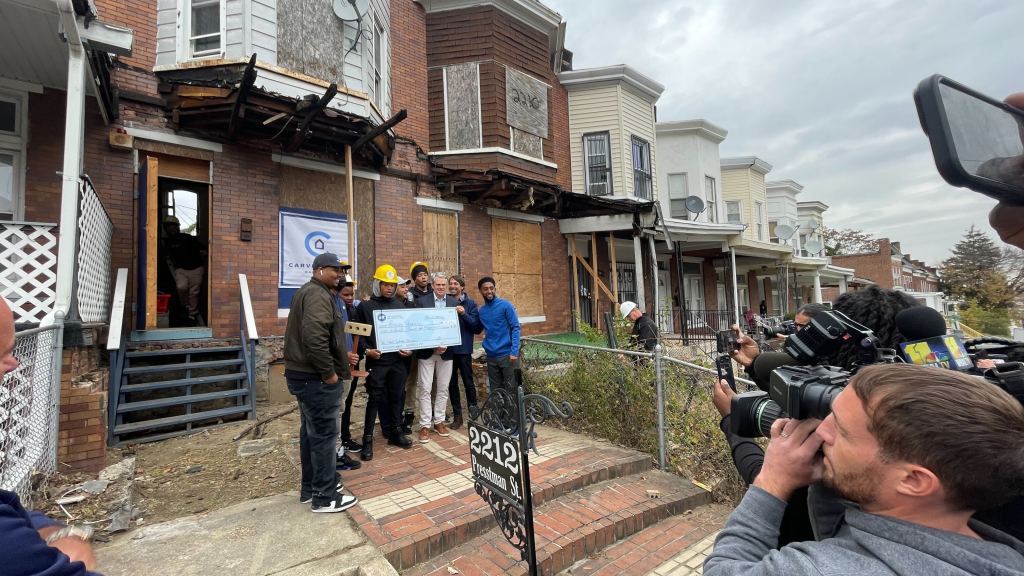 Requity Foundation, a Baltimore-based nonprofit that provides vocational education and workforce development, is celebrating a $100,000 cash contribution from ADT, as well as in-kind donations of a smart security system and rooftop solar worth more than $30,000 for its Carver House project. 
"Requity aligns with our mission of spreading safe, smart and sustainable solutions," said Jeff Likosar, ADT President, Corporate Development and Chief Transformation Officer. "We are delighted to put our profit to purpose and bring innovation to our communities, especially those affected by historic disinvestment." 
"This partnership provides an opportunity to mentor vocational students who may someday become ADT technicians," said Andy Droney, leader of ADT's Health business and a Maryland resident for more than 50 years. "Plus, it serves as a signature project as ADT celebrates its Baltimore City founding 150 years ago in 2024."
According to a 2019 study by the Fund for Educational Excellence, vocational school graduates in Baltimore can expect to earn only $13,000 annually, far below national averages.
Requity aims to transform vocational education through work-based learning initiatives such as the Carver House project, a rehabilitation project of a vacant row house situated across from the historic Carver Vocational Technical High School. Located at 2212 Presstman St., the affordable net-zero home enables Requity to align learnings with vocation curriculums. By emphasizing hands-on experience and applying classroom lessons to authentic work, students in carpentry, construction design, electrical, masonry and business will be better trained, equipped and experienced for construction jobs and career pathways.
"The initial phase of the Carver House project didn't just teach me to lay bricks or the five principles of passive house building, it also improved my intellectual ability to network and work with crew members," said Ajaughn Vidal, a senior at the school. "I want to continue this project to not only enjoy the experience, but also to stay connected with the awesome minds that introduced me to this field of work."
"Our goal is to replicate projects like the Carver House to more vocational schools in Baltimore City and then expand to other urban areas," said Michael Rosenband, Requity founder. "ADT's generous gift sets the foundation for growth and helps engage and impact more people." 
About ADT
Founded in Baltimore in 1874, ADT provides safe, smart, and sustainable solutions for people, homes and businesses. Through innovative offerings, unrivaled safety and a premium customer experience, all delivered by the largest network of smart home security and rooftop solar professionals in the U.S., we empower people to protect and connect to what matters most. For more information, visit adt.com.
About Requity                                                                        
Requity Foundation Inc is a 501(c)(3) tax-exempt, nonprofit corporation established to break down barriers between vocational education and the marketplace. We are transforming vocational education through work-based learning projects designed to build community wealth and fight climate change. For more about Requity, please visit its website at requity.org