2023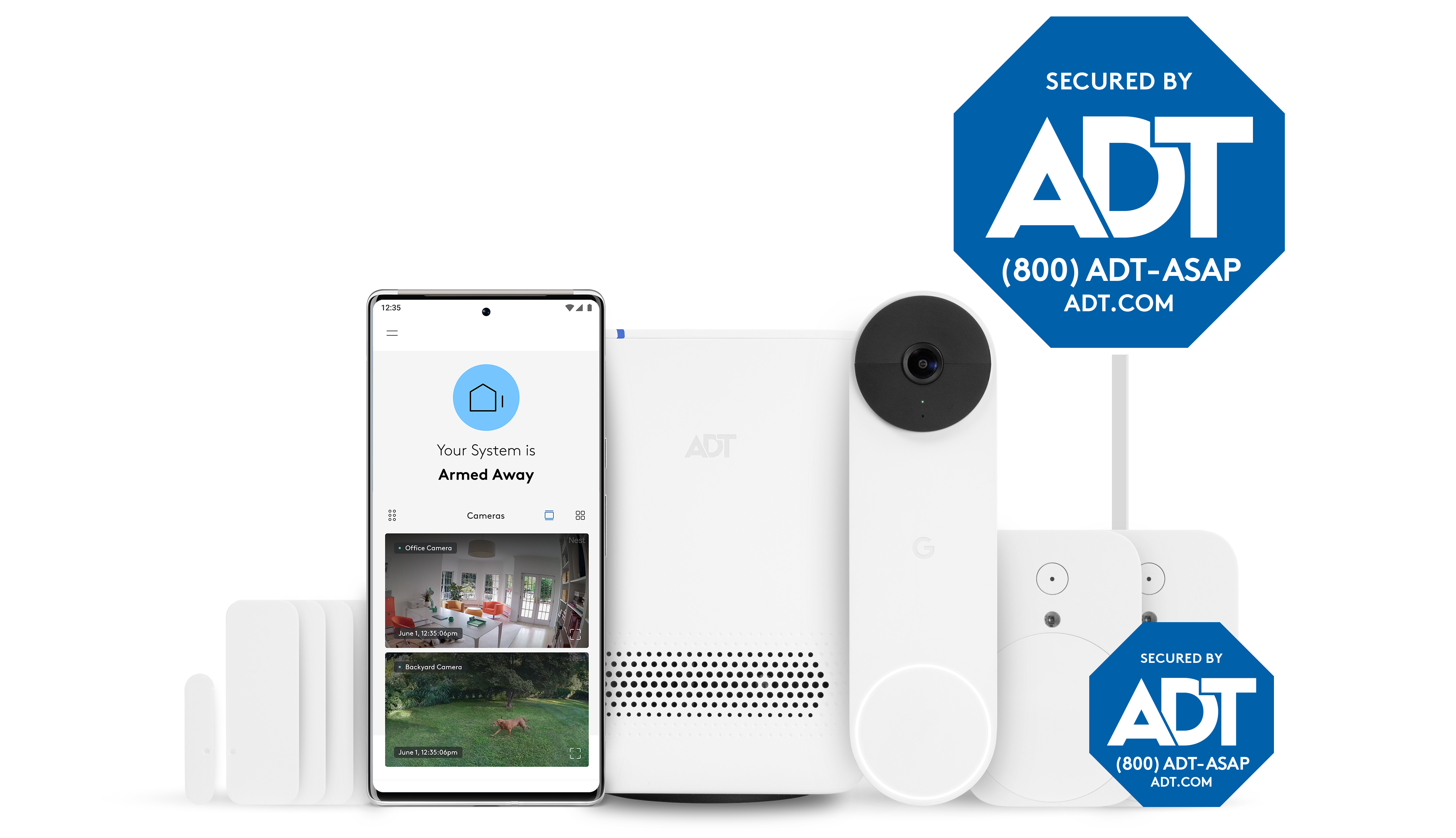 ADT launches Self Setup
ADT and Google announce ADT Self Setup, a fully integrated DIY smart home security system offering from ADT. It's customizable and can be accessed with the ADT+ app nearly anywhere with cellular service. The ADT+ app provides the ability to check cameras and set automation for connected devices, including some Smart Home Google devices such as Nest Thermostats, Nest Cams and the Google Nest Doorbell.   
2022

ADT and State Farm form partnership
ADT and State Farm are working together to enhance customer safety while mitigating homeownership risks with smart home technology. State Farm invested $1.2 billion in ADT and $300 million in an opportunity fund to develop and support innovation. In 2023, State Farm customers in select states were offered ADT service at a discounted rate, including sensors for water, smoke and windows/doors.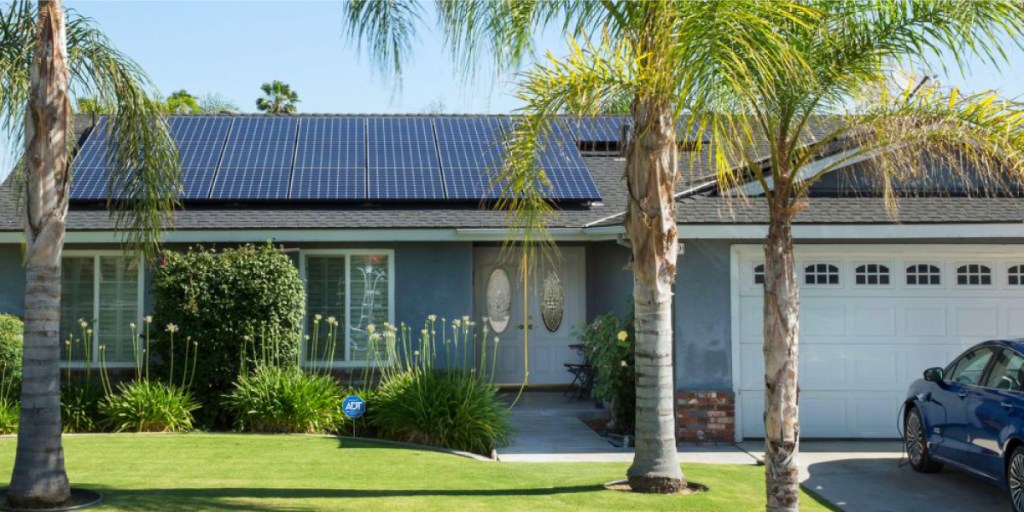 ADT Solar joins the fold
ADT moves beyond safety and security with the introduction of ADT Solar. ADT Solar is available in 23 U.S. states, with expansion plans for seven more soon. ADT customers can now add sustainable energy generation and storage to their safe, smart homes and businesses. 
ADT and Ford launch Canopy
Canopy combines ADT's professional security monitoring and Ford's AI-driven video camera technology to help customers strengthen vehicle security. Canopy connects AI-powered security cameras, a mobile app, and professional monitoring to protect valuable work equipment in vans and trucks.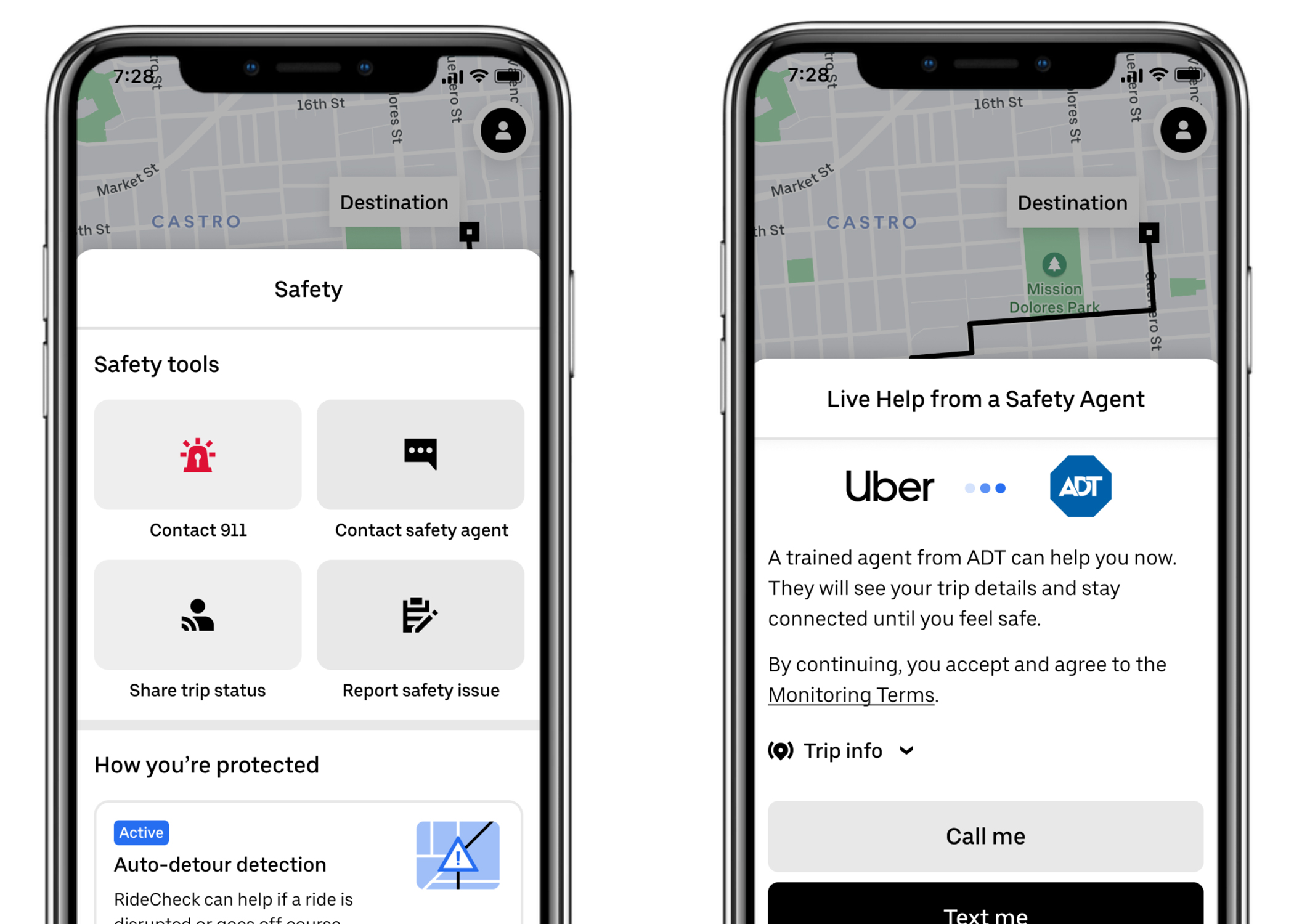 ADT helps make Uber safer
ADT mobile safety solutions are integrated into the Uber app for riders and drivers. Uber users in the United States have access to live help, via phone or text, from ADT professional monitoring agents 24/7.  
This safety tool grants Uber drivers and riders reassurance and emergency services access when needed. 
2021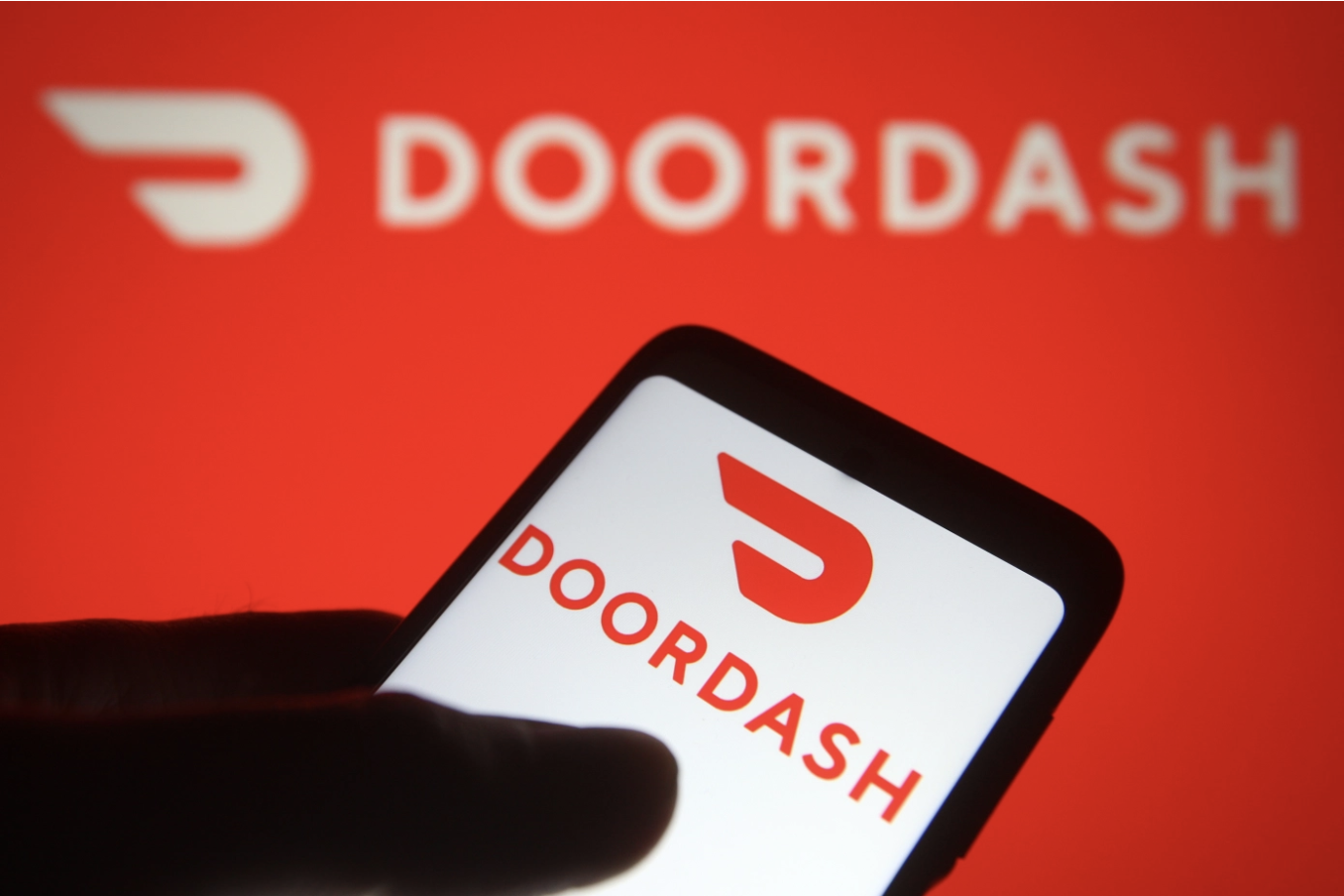 ADT partners with DoorDash
Safe by ADT powers SafeDash, DoorDash's in-app safety toolkit. Dashers can quickly and easily request professional help by voice or text and receive emergency services at their location anytime they feel unsafe.  
2020

ADT and Google form long-term partnership
Google invests $450 million in ADT, acquiring a 6.6% company ownership stake. Each company commits $150 million to co-marketing, product development, technology and employee training. 
The partnership combines ADT's SMART Monitoring with Google's Nest devices and machine learning. Since 2020, ADT and Google have introduced additional smart home products to improve the user experience.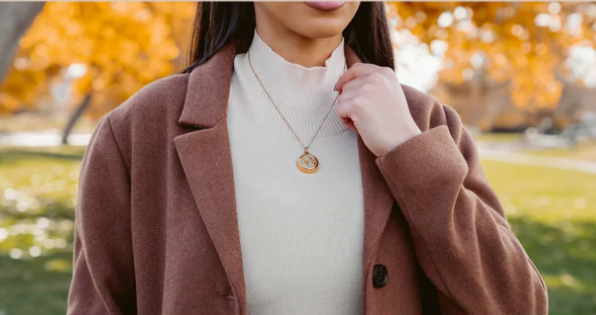 ADT and invisaWear collaborate on wearable safety accessories
Smart wearable company invisaWear and ADT collaborate to introduce advanced mobile safety and monitoring features into invisaWear's ground-breaking line of wearable personal safety accessories. ADT also powers invisaWear's companion app, allowing users who feel unsafe to discreetly connect by voice or SMS chat with ADT.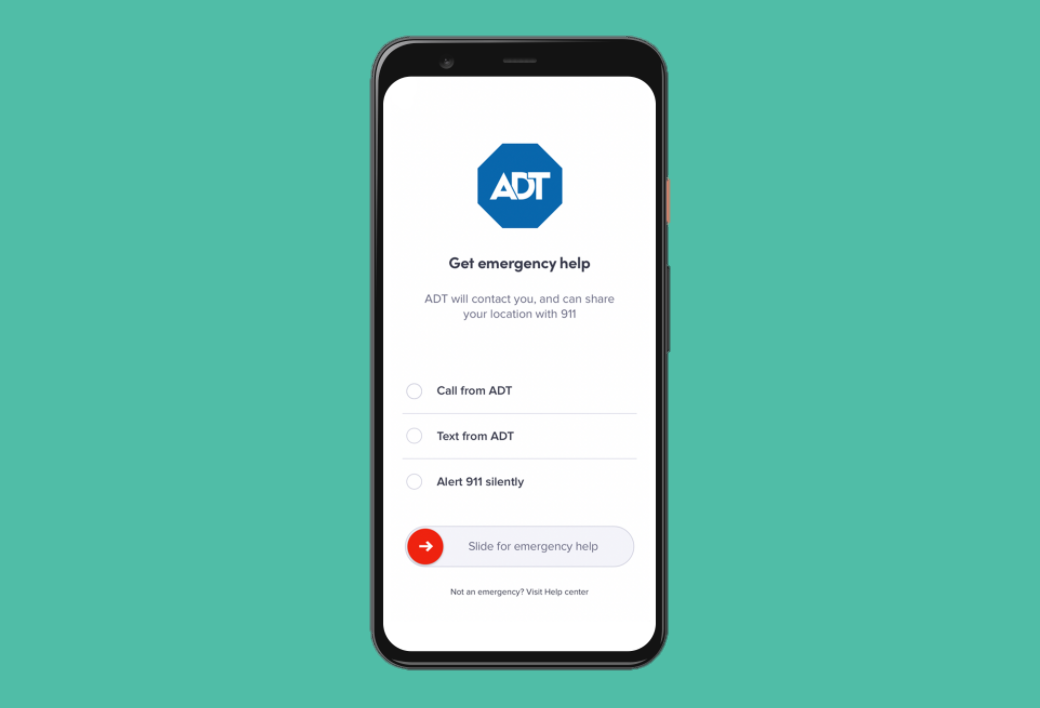 ADT provides peace of mind for Lyft users
Lyft adopts ADT's mobile safety solutions to help protect its riders and drivers. ADT powers the Emergency Help feature to discreetly connect Lyft riders and drivers to an ADT professional monitoring agent during an uncomfortable event or when an emergency response is needed.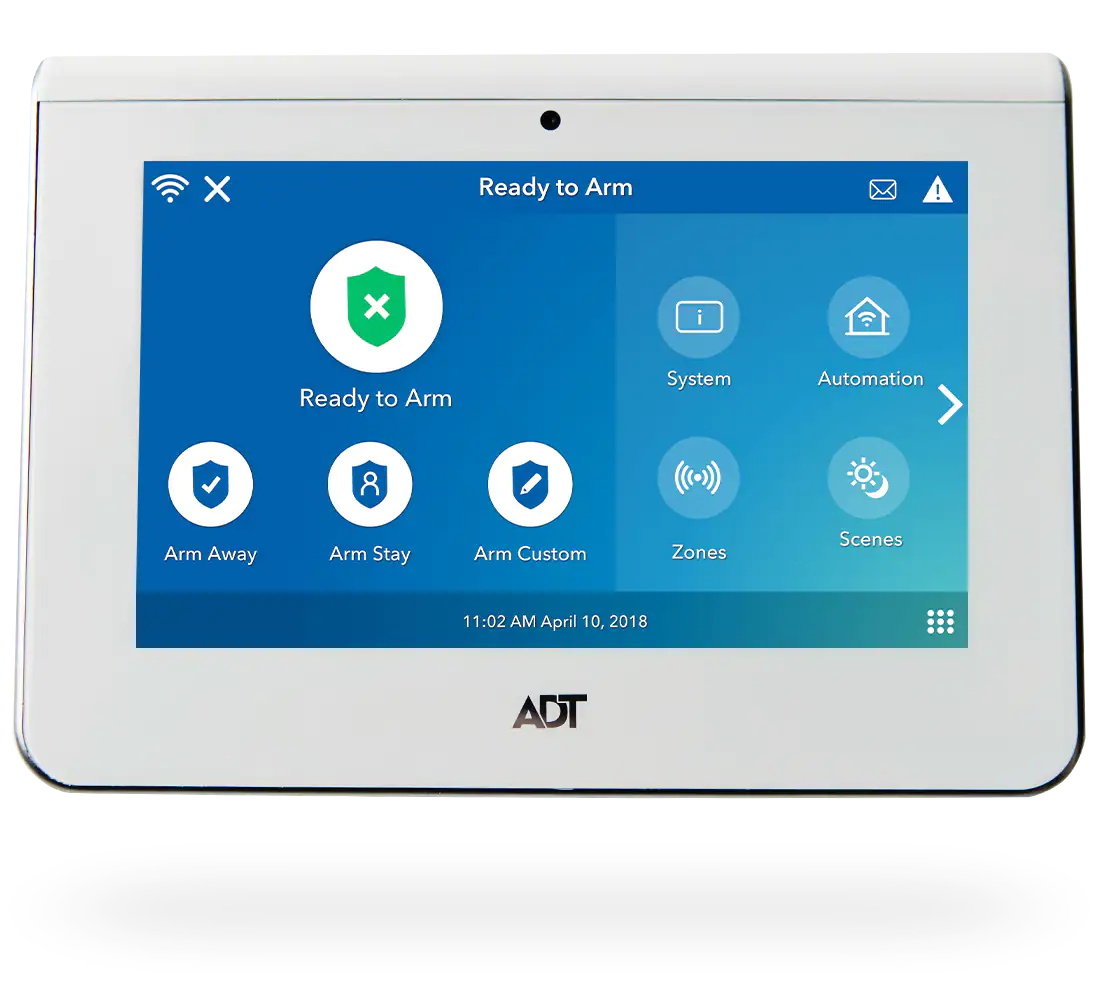 ADT innovates with Command and Control
ADT drives innovation with the launch of ADT Command and Control. The ADT Command panel (shown) has smart home capabilities that help customers protect and automate their homes through one easy-to-use interface. With the ADT Control mobile app, customers can remotely access their connected smart devices, including lights, locks and thermostats, and set schedules, scenes and geofences for a more automated home experience. 
2010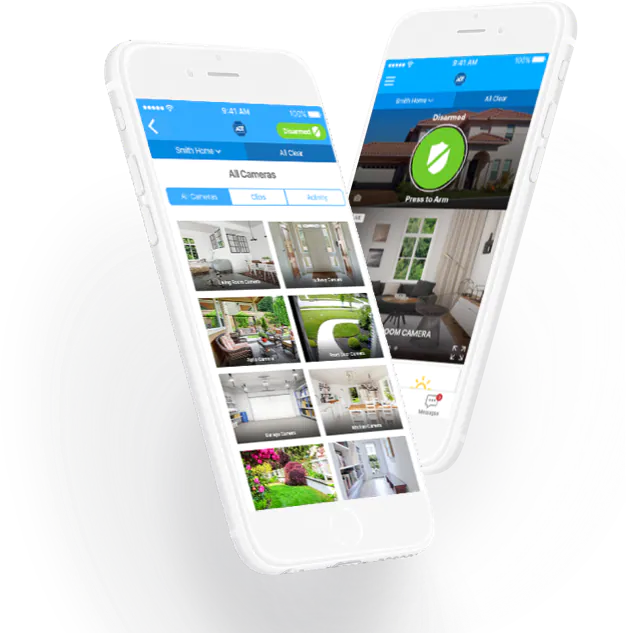 ADT Pulse brings remote control
ADT elevates home intelligence when the launch of Pulse, an app that lets customers remotely access and control their home security system, lighting, climate control, security cameras and much more — all in real time. 
1991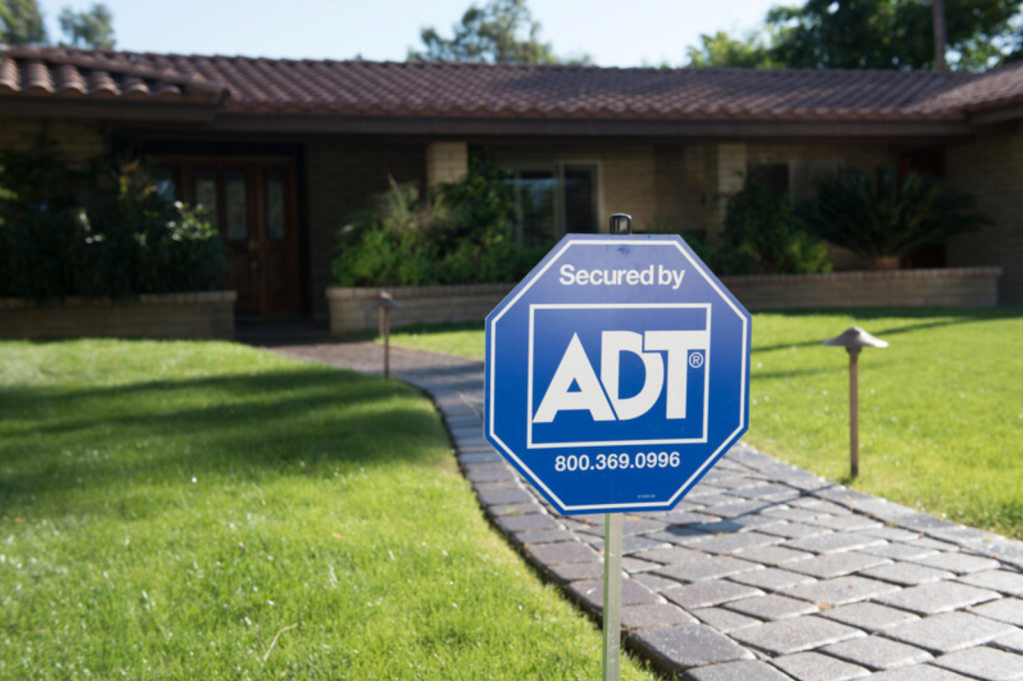 Iconic ADT yard sign debuts
A new ADT security feature gains immediate customer approval: the iconic ADT yard sign, which now dots millions of customers' yards across the country. 
1980s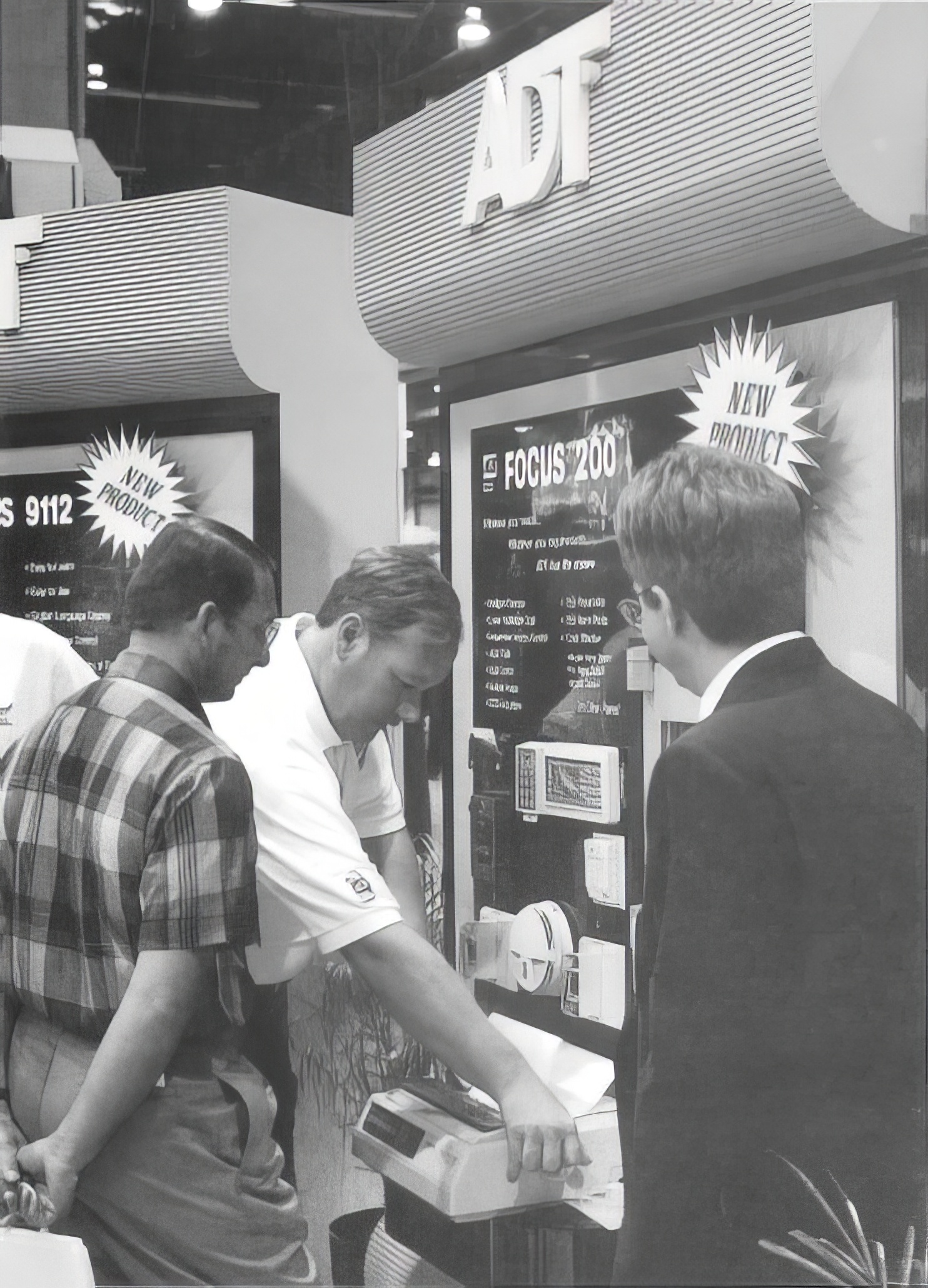 Technology allows ADT to widely expand home security
New technology enables ADT to make home security affordable for the masses. Previously, ADT only protected commercial and government facilities due to high costs. Four decades later, residential security is the heart of ADT's business.
The Focus multiplex alarm control unit (shown) debuts, which features fire, hold-up, burglary and critical condition monitoring in a single control.  
1974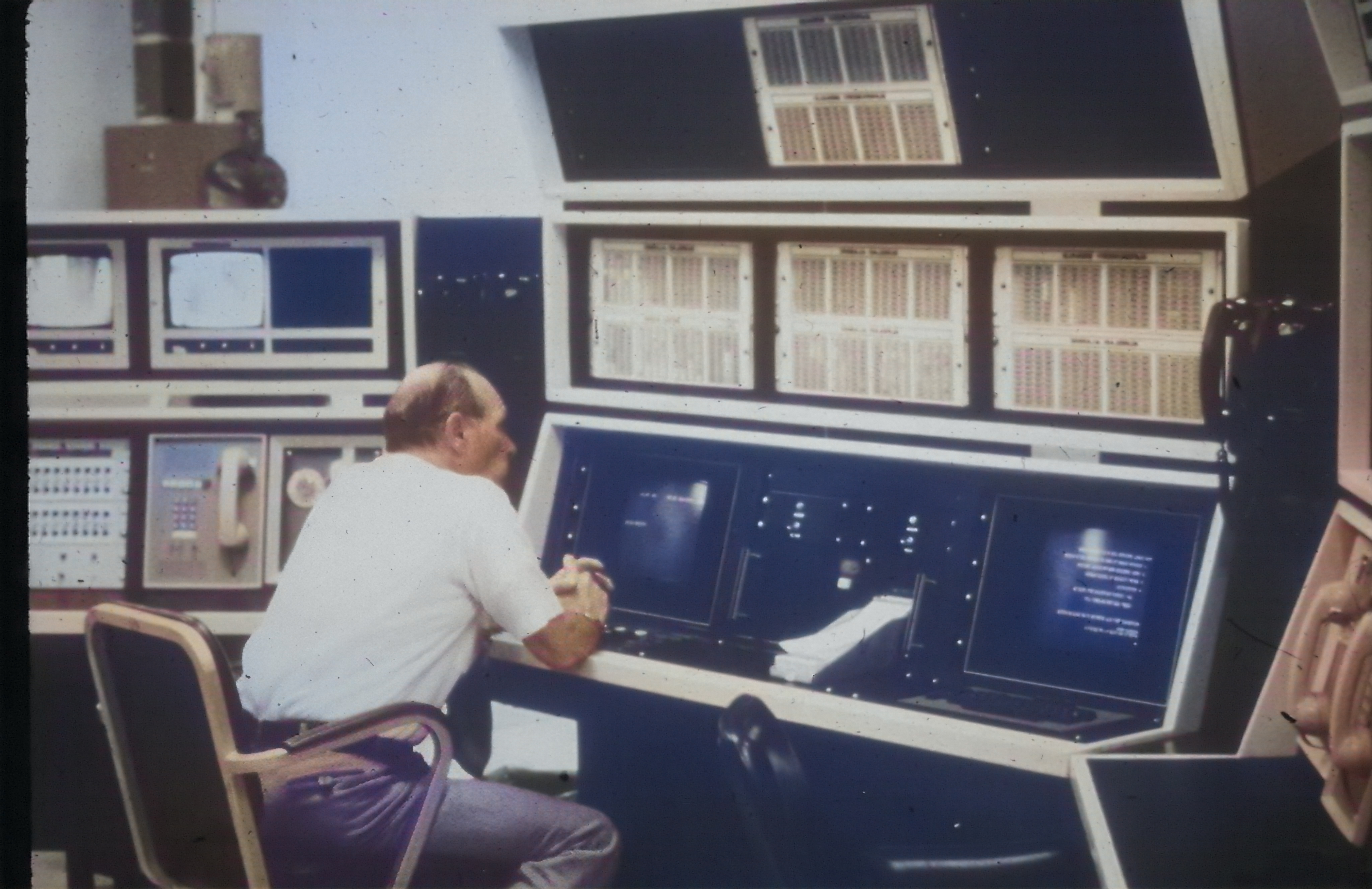 ADT turns 100
ADT celebrates its 100th birthday. The company promotes its 1970s innovation, introducing its first computer-based propriety system. 
1969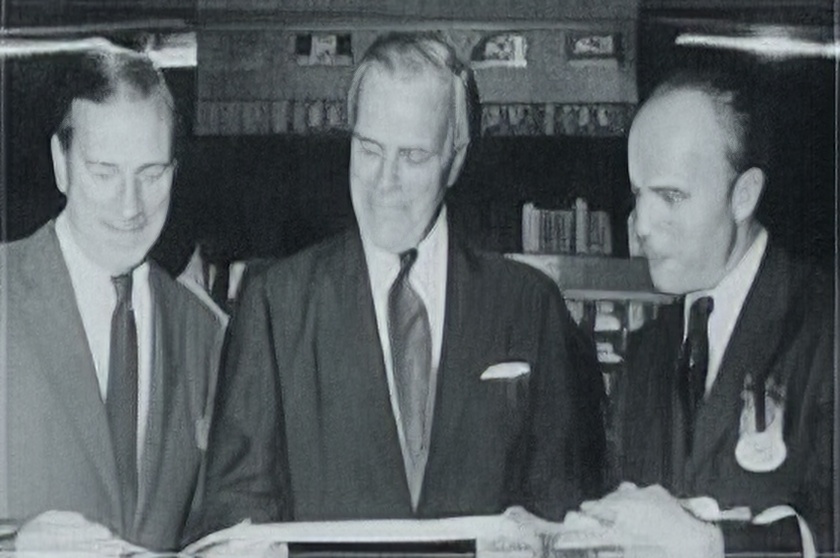 ADT goes public
ADT, a leader in America's security market, becomes a publicly traded company on the New York Stock Exchange.
Also in the 1960s, ADT launches the vault vibration system.
World War II
War needs spur innovation
As America enters World War II, a workforce shortage drives demand for technology that automatically detects fire or intrusion, then signals an alarm. After the war, ADT is recognized for protecting government factories that produced weapons and aircraft from enemy sabotage. Two years after the war, ADT pioneers ultrasonic indoor motion sensors.  
1920-1940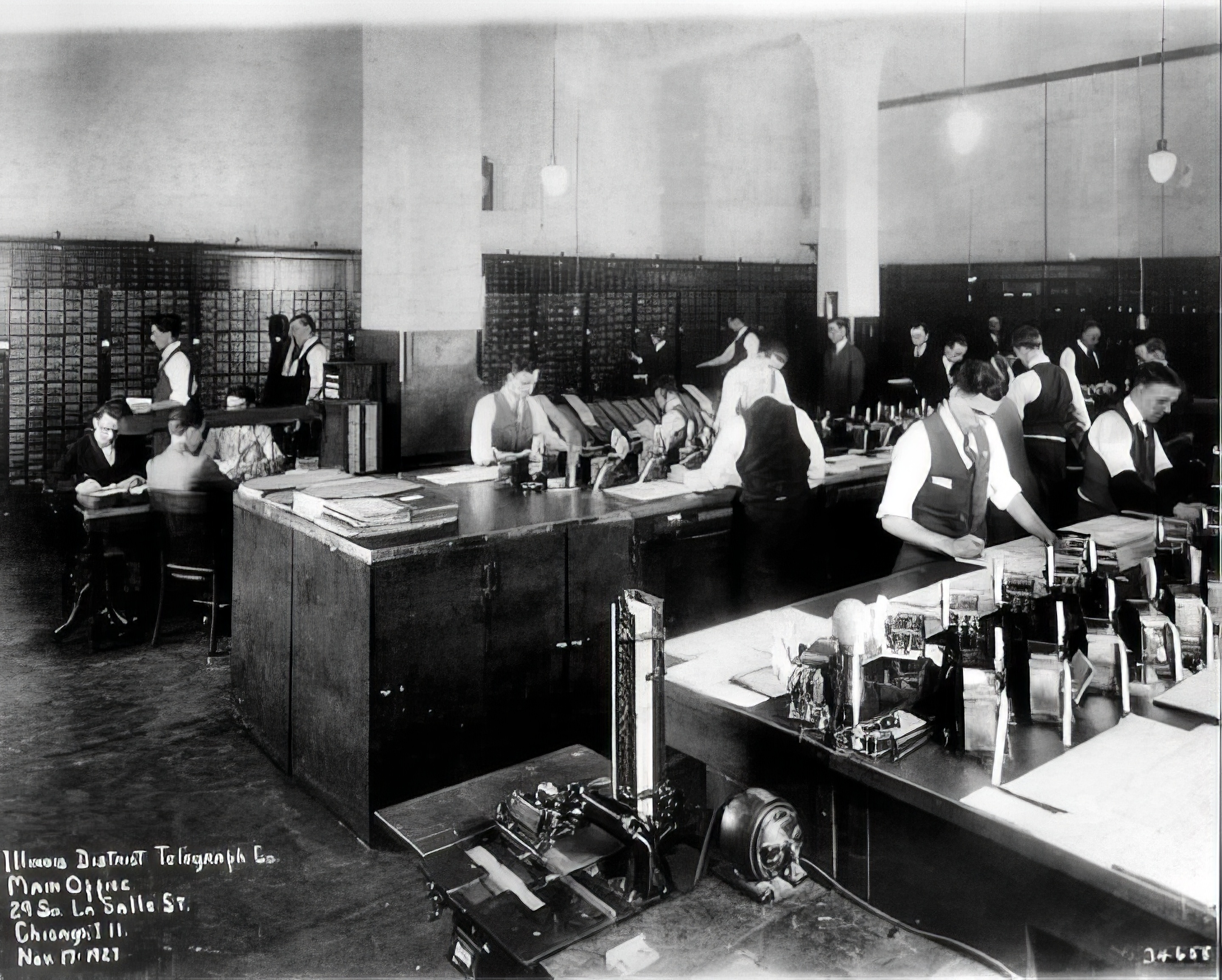 ADT creates the Central Station Monitoring Center
ADT pioneers the concept of the Central Monitoring Center, enabling thousands of customers to link to 24/7/365 monitoring and protection. Devices receive alarm signals, and then operators contact police, fire or medical services, if needed. Its success propels ADT to help protect the 1939 World's Fair in New York City. 
1890-1920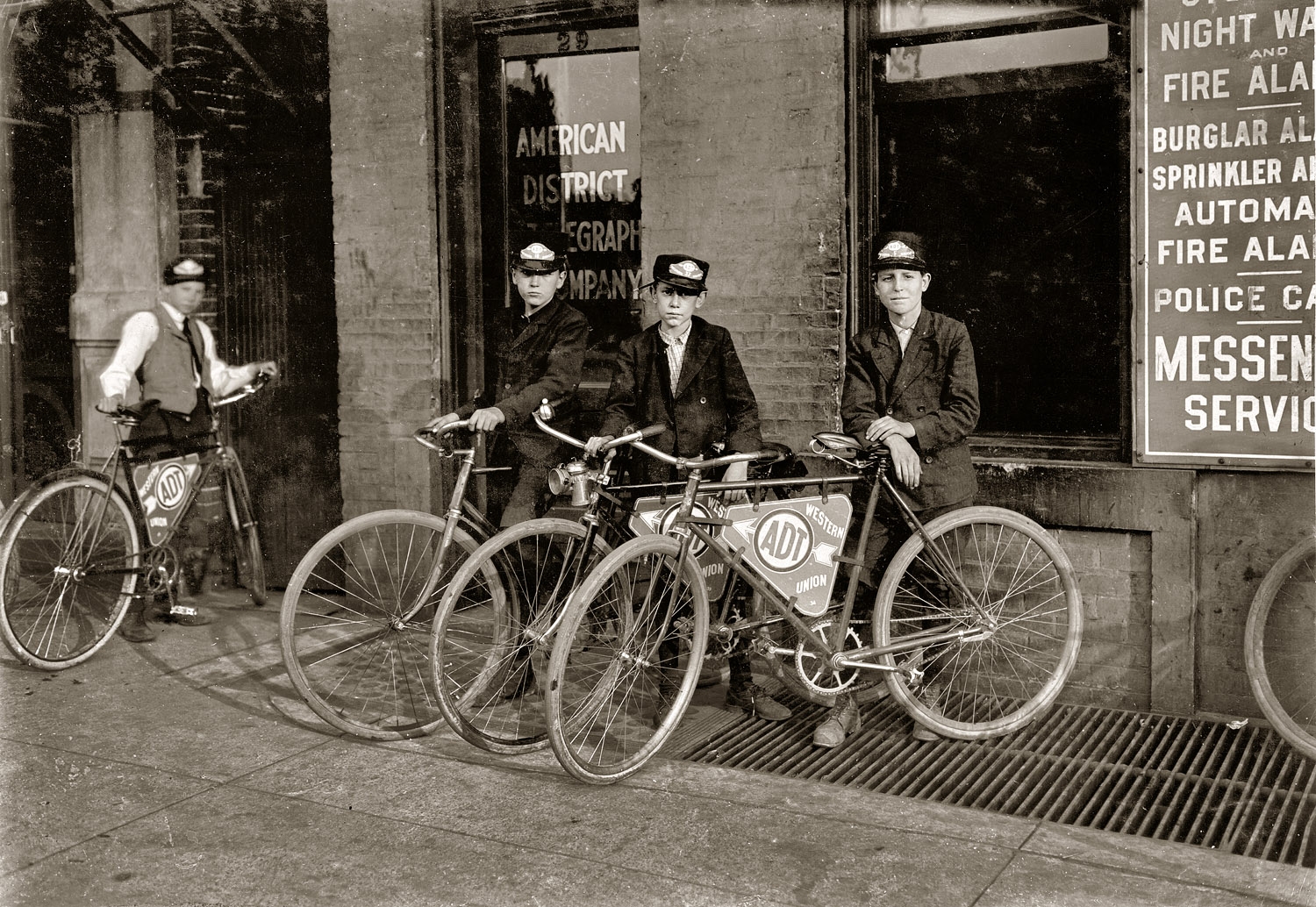 ADT employs Roundsmen and Messenger Boys
ADT call boxes are used to request a Messenger Boy who takes messages to Western Union for distribution. Messenger Boys make about 25 cents an hour and can be requested for just about anything, even customer errands. The Messenger Boy service brings in about 70% of ADT's revenues.  
 At the turn of the century, the telephone replaces the telegraph and ADT pivots to signal service, ADT's first proactive security monitoring and response offering.
ADT Roundsmen work as watchmen, making rounds of commercial and government buildings, helping prevent fires and burglaries, and noticing anything out of the ordinary. Many Messenger Boys are recruited to become Roundsmen to strengthen the signal service.
1901-1908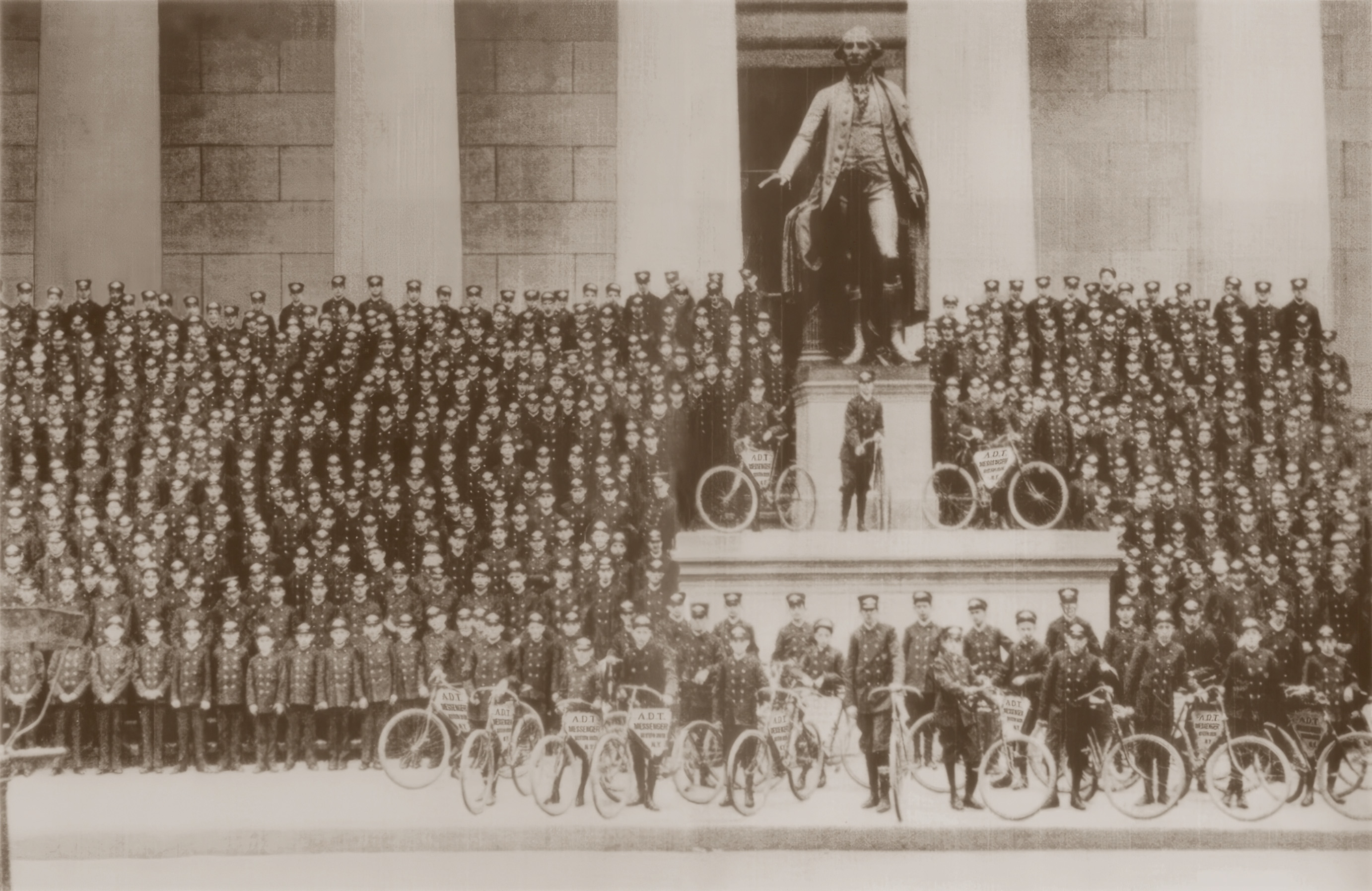 Western Union acquires ADT
Robert C. Clowry, a colonel in the U.S. military, serves as an example of the career growth available at ADT. Clowry worked his way up from Messenger Boy to eventually serve as President of Western Union and ADT, which he leads for eight years.
Today, ADT extends the same growth opportunities to veterans and has been recognized with the HIRE Vets Gold Medallion Award presented by the U.S. Department of Labor. 
1874
ADT is formed in Baltimore
It all started on April 5, 1874, with a nighttime break-in. American District Telegraph Founder Edward Callahan created a telegraph-based "call box" to signal for assistance to a central office. He quickly connected 50 other homes in the neighborhood, creating the first residential security system network. American District Telegraph was incorporated shortly thereafter on Aug. 14, 1874, in Baltimore.