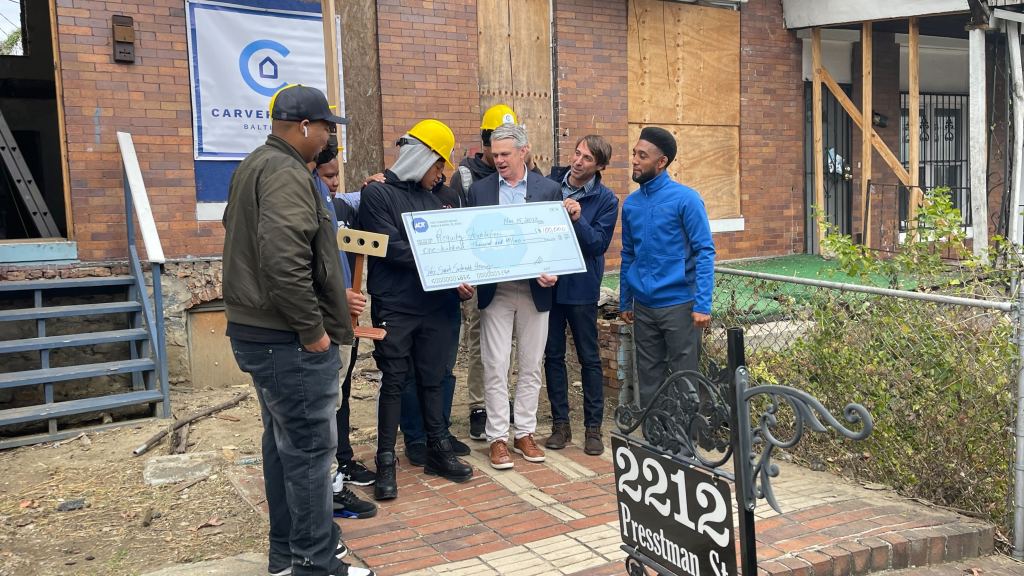 Once home to generations of families, thousands of row houses now sit empty in Baltimore. Bringing them back to life is a goal of Mayor Brandon Scott.
"Revitalizing these historic houses is essential to rebuilding our city," he said at a recent news conference, where ADT announced an innovative relationship with the Requity Foundation to support the Carver House, a vacant row house across the street from Carver Vocational-Technical High School.
Carver is a learning lab for students in electrical, carpentry, masonry and other skills. Its students have been working with Requity, a nonprofit launched in 2020, to renovate the house.
"By getting hands-on experience, Carver students are better trained for higher-paying construction jobs and stronger career paths," said Michael Rosenband, Requity co-founder.
Scott agrees. "It gives them a chance to achieve financial mobility — not just for them, but for their families," he said.
The students are responding positively to the learning lab model.
"I have a house to work on and can say that I made it with my own hands," said student Elana Urszuy.
Said senior Ajaughn Vidal, "I can also learn important interpersonal skills like teamwork."
Now with a $130,000 contribution to Requity from ADT, Carver students will have even more opportunities. The donation includes a $100,000 cash contribution, as well as a smart security system and rooftop solar worth more than $30,000.
"At ADT our mission is safe, smart and sustainable," said Senior Vice President John Owens. "Our donation also includes a smart security system and rooftop solar for Carver House."
Through its local branch offices, ADT is also providing mentoring for the students and designing a training curriculum. Eventually, Carver students could join ADT as technicians.
"Together we are ushering in a new career movement in Baltimore," Scott said.