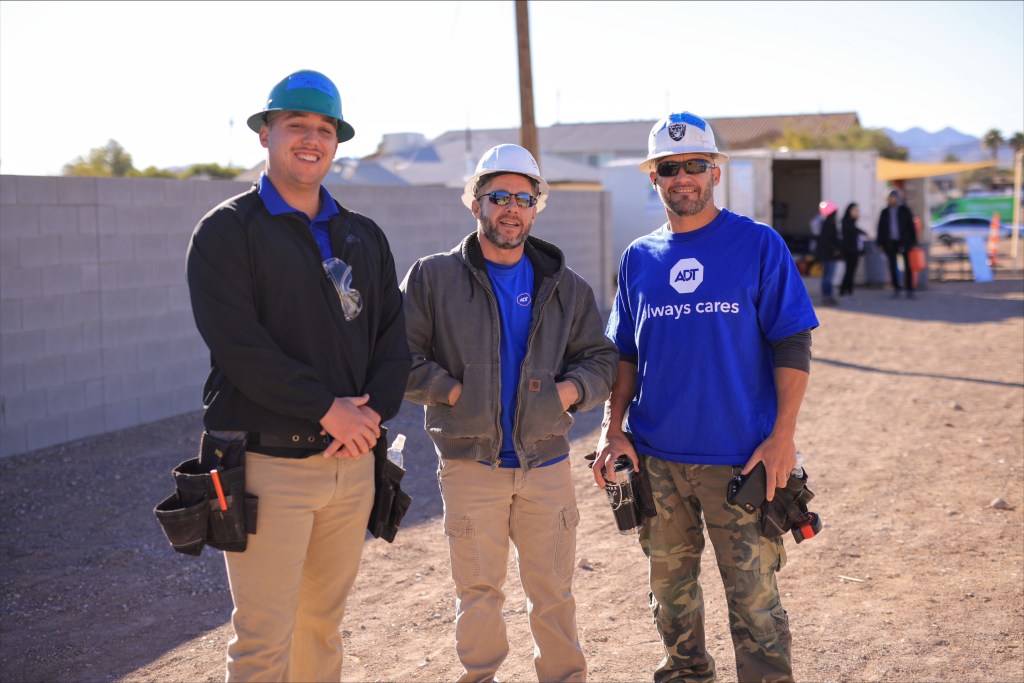 A woman in the Las Vegas area, who once faced homelessness, will soon have a home to call her own, thanks to the support of ADT and Habitat for Humanity. A volunteer crew worked on the build on Nov. 10, the day before Veterans Day. The timing had special meaning to the volunteers from ADT, as many of them are military veterans and saw it as another opportunity to serve. 
Monica, the future homeowner, said she knows this is a chance to start over. "I've never thought that I would be in the position that I am now at 23, getting out of a really bad relationship. It makes me feel really loved that people I don't know are just taking the time to come help with something that doesn't really benefit them," Monica said. "It has been a really nice experience."
"We're about showing love," said Darlene Heatherington, an ADT In-Store Coordinator and U.S. Veteran. Knowing the home wouldn't be ready in time for Thanksgiving, Darlene invited Monica to her home for the holiday.
Monica's home will be Habitat for Humanity's 119th in the area. The nonprofit says it relies on the help from companies like ADT, who recognize the importance of giving back. "Bringing out the volunteers and contributing their time and labor, not only does it help keep costs down for us in terms of construction, but also just bringing that community together, having people that live here give back to people that need it, is life changing," said Angela Phillips, Executive Director of Habitat for Humanity Las Vegas.
During the volunteer event, ADT also made a $15,000 donation to Habitat Las Vegas to help in its mission to provide affordable housing. ADT team members have worked on Habitat for Humanity projects this year in the New Orleans, Denver, Seattle and Boynton Beach, Florida areas.