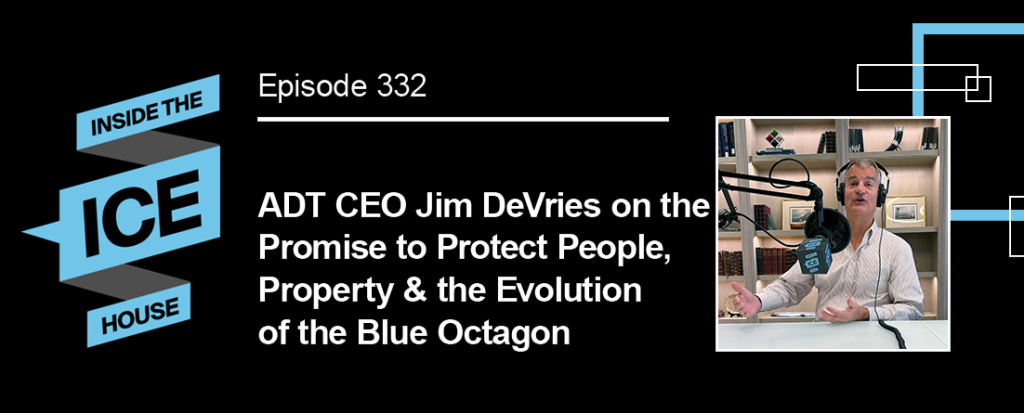 ADT President and CEO Jim DeVries was recently featured on the "Inside the ICE House" podcast. The podcast, which features conversations with top business leaders, entrepreneurs and visionaries, is recorded from the library of the New York Stock Exchange.
In his first trip back to the NYSE since ADT's IPO in 2018, DeVries joined the podcast's host, Josh King, to share the company's incredible progress since then.
DeVries has many reasons to describe ADT's recent progress as incredible. Under his leadership as CEO, ADT has added a rooftop solar business, formed long-term, strategic partnerships with powerhouses State Farm and Google, and led a transformation of the iconic brand from the leading security company to a leading smart home company. DeVries views his job of leading ADT through its transformation as an opportunity to help save lives and property every day.
"So seldom in business is there a mission that is as true and as authentic as the ADT mission. We have an opportunity to grow a company and do well by doing good," he said.
In the podcast episode, DeVries notes that ADT is transforming to expand its addressable market and focus on delivering safe, smart and sustainable solutions with a premium customer experience. He shared more about one innovative technology that is intended to provide a seamless and secure experience for ADT customers: the new software platform ADT+, which will start to roll out in February.
"ADT+ allows for a completely integrated experience. You can control temperature; you can arm and disarm your security system; you can look at your cameras; you can turn off your lights; put your garage door down. Everything is embedded in a single control system that really makes for a more convenient experience for the customer," DeVries said.
He added that ADT has more big plans to come as it continues to execute and leverage new opportunities and technologies to help keep its customers and their families, homes and businesses safe.
Listen to the full episode of "Inside the ICE House" for more on ADT's transformation, DeVries' career journey and the future of ADT's strategic partnerships.