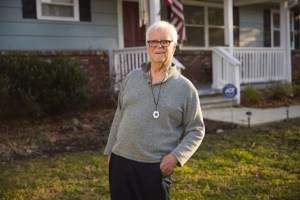 Last month, in Knoxville, Tenn., ADT celebrated the people and processes that came together to help save ADT customer Joe Cologgi, a 76-year-old man who fell and used his ADT Medical Alert button to get help. Joe was in a dire situation when he pressed his button, trapped under a bookshelf that fell on top of him when he reached out to stabilize himself. Without his medical alert button, he could have laid there without help for much longer.
Joe is so grateful for the help that ADT and first responders provided him in this situation, in addition to the independence that having his ADT Medical Alert has given him overall. Joe has a close friend and a caregiver who each check in on him a few times a week, but when Joe is alone, like he was on the day he fell, he counts on his ADT Medical Alert device to help keep him safe.
"When I heard Joe's story it was heart-wrenching, but it felt really good to know we were able to get him help in minutes. Joe's situation is not unique. Our agents take calls like his on a daily basis and do an amazing job responding to get our customers the help they need," said Andy Droney, Senior Director of ADT Health.
ADT's medical alert devices not only provide a lifeline for customers during an emergency, but also a safety net that allows aging seniors to live alone who wouldn't be able to without extra support. As seniors grow older, ADT wants to help them remain independent and age in place comfortably in the place they call home.
So, when is it time to start looking at options for medical alert devices? Droney says, "Joe's story illustrates that if you notice changes happening with a loved one or yourself like unsteadiness or different gait patterns, now is the time to get a medical alert device. Sometimes people may be reluctant to get a medical alert device because they see it as a sign of getting older, but you don't want to wait for a tragic event or serious fall to happen and in case it does, you want to have access to help at the push of a button."