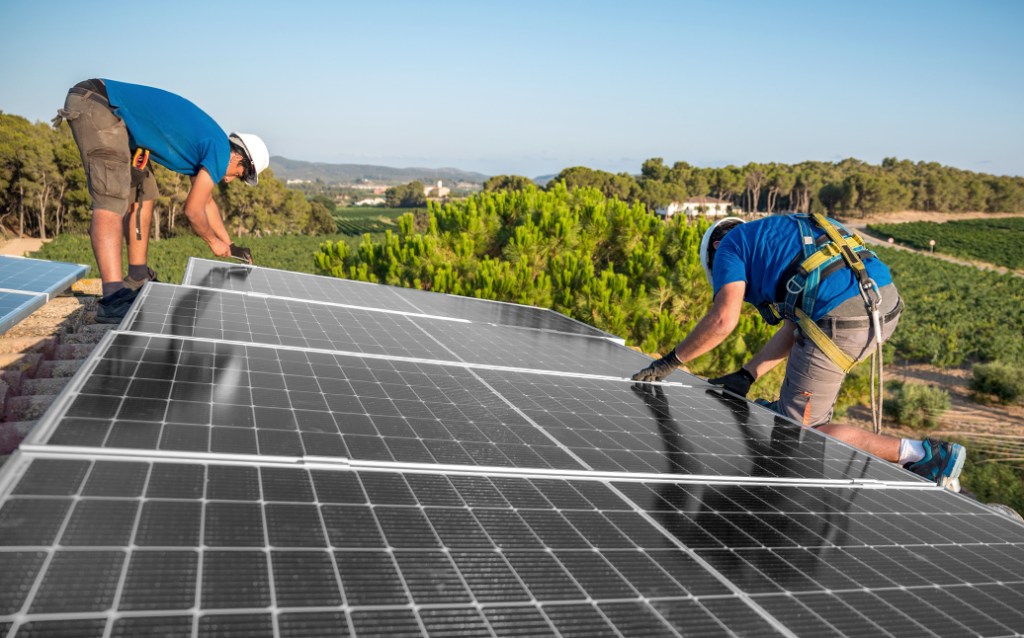 At ADT, we believe a safe, smart future is one that is sustainable. That's why, just over a year ago, we added rooftop solar to our portfolio. As ADT Solar, we're working every day to make sure that the smart home of today and the future is powered sustainably with solar energy.  
There's so much potential. In fact, just 3% of solar-viable rooftops in the U.S. currently host rooftop solar systems according to NREL. As President of ADT Solar, I'm excited for the challenge to see more of our cameras, thermostats, sensors, apps, smoke detectors — all the things that connect and protect our loved ones — running on that massive ball of hydrogen and helium 91 million miles away.  
Naturally, my favorite part of ADT's booth at CES this year is the area that shows visitors how ADT Solar can power ever-more-sophisticated smart homes. It provides a sneak peek into how our safe, smart and sustainable vision is coming to life across the whole home.  
But the growth of solar adoption is bigger than ADT. We hope to chart a new course for the industry, one that champions trust, stability and education. It's how ADT has operated since 1874.  
Here are just a few reasons why ADT Solar is a smart choice.  
Customers at the core 
Choosing to add solar energy to your home and selecting a provider can be daunting. The industry has grown extremely quickly, and with that fast growth has come thousands of competing companies, inconsistent local and state policies and consumer confusion. Unfortunately, we've seen some companies prioritize sales numbers over customer care.  
We're taking a page from ADT's long history of exceptional customer service to change the experience. With educational content that covers topics such as Solar 101 and battery backup options, as well as our trustworthy ADT Solar experts who prioritize relationship building, we aim to make the decision to go solar an easy one.  
ADT Solar also brings the longevity and stability of the ADT brand to the solar industry. Our customers can rest assured, knowing they are protected by multiple warranties and a 25-year Power Product Guarantee.  
Looking to the future 
We envision a future where our customers can manage where their power goes alongside all their smart home features. A future in which the same app that tells them who is at the door also displays their solar production and how much energy they are using (down to the appliance!), and enables them to fully flex their energy independence. That future is not too far from reality. Visitors to our booth can try out the new ADT+ app, which allows them to access and control their ADT devices in one place. The smart home area features a prototype of how we imagine solar connectivity being integrated into ADT+ to help customers monitor their solar power use, identify potential energy cost savings and more.  
Home solar battery backup is another growing area of our safe, smart and sustainable future. Batteries charged by the sun help consumers reduce their impact on the planet, cut down on energy bills, take control of their home's energy and prepare for power outages. It's part of our whole home approach that gives users control of their power.  
A purpose-built company 
About 70% of U.S.-based workers say their purpose is defined by their work, according to survey data. Many ADT Solar employees cite our collective purpose as a primary reason they love their jobs. In a time of roller-coaster energy prices, they are harnessing the endless power of the sun to make people's lives better. Their purpose is bigger than any individual. Their impact will last for years.  
Take, for example, Doug Parks, one of our newer employees who oversees training and onboarding. Doug lives outside of Las Vegas and sees the impact of climate change — especially the decreasing water levels at Lake Mead. Working to make the planet greener "is the right side of history to be on," he said.  
With so much volatility in the solar industry, we are focused on building a strong culture, even for those field employees who rarely step foot in an office. They are each part of ADT's 20,000+ workforce that is innovating for a future where everyone is connected, protected and powered by the sun.