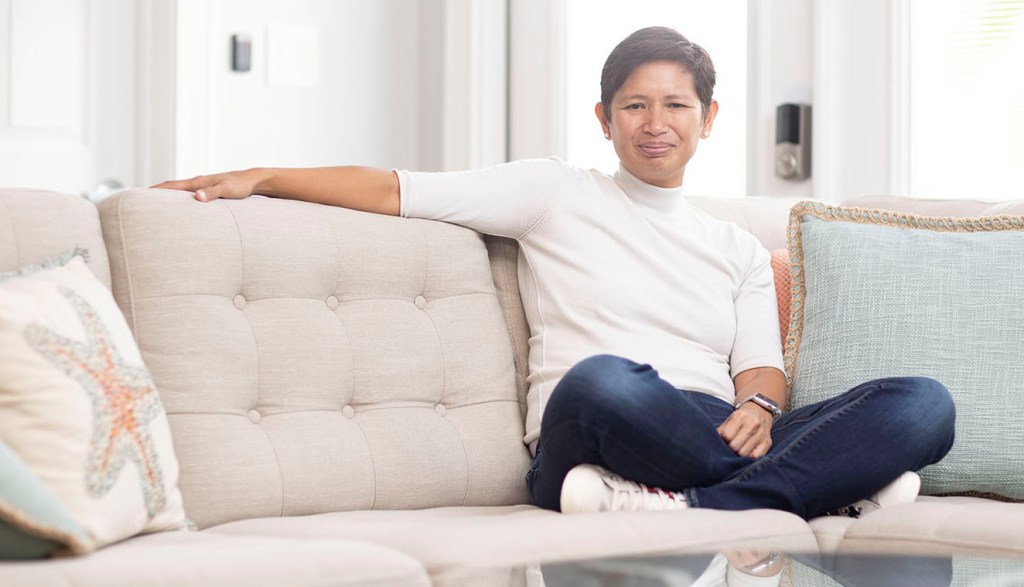 ADT's home security systems have long helped customers protect and connect what matters most. But as the company expands its smart home products and services, customers can now use their systems for so much more.
We sat down with Raya Sevilla, ADT's Chief Technology Officer, to hear what excites her about these new products and services and find out some tips and tricks that customers can use to get the most out of their ADT smart home system.
Q: What is your role at ADT and what excites you about it?
A: As Chief Technology Officer, I lead our product and engineering teams to build the technology that brings to life the safer, smarter, more helpful home.
And that's really the magic behind ADT — the combination of the human touch and technology. Our professional installers and expert sales and care agents work hard to provide the best possible experience to each of our customers. And if something goes wrong, an ADT person is there. A monitoring agent, rather than a "bot," is on the other end of the phone and can get a customer the help they need.
I firmly believe that when something goes wrong and you need help, there is nothing more powerful than a trusted human connection to help you through that challenging time. That's what excites me about what I get to do at ADT — helping facilitate that human connection.
Q: What devices do you have in your own home?
A: (Laughs) Wow. Where do I begin?
I have a Command panel connected to open/close sensors, motion sensors, cameras, a video doorbell and a water-leak sensor. I also have Blue by ADT DIY sensors and cameras. There also might be some top-secret prototype devices lying around. Shhh.
And with ADT now selling, installing and servicing many Google Nest devices, I now have three outdoor Nest Cams, one Nest Cam with Floodlight, two battery-powered Nest Doorbells, one wired Nest Doorbell, four Nest Minis, one Nest Hub Max, two Nest Hubs (2nd gen), my Nest Wifi with Points, and a partridge in a pear tree.
Q: If you had to pick a favorite device, which would it be?
A: It's a toss-up between the open/close sensor and the motion sensor. Both facilitate many of the automations in my home today. For example, when the front door opens, the lights turn on. Or if the window or backdoor is left open, the A/C will automatically turn to 78 degrees.
If I could pick another, I'd also say the doorbell, specifically the one I installed on my backdoor. I trained my dog, Teemu, to ring the doorbell. Consequently, I can be anywhere in the house and I know when he wants to come inside.
The doorbell also gives me a great view of my patio, allowing me to keep an eye on him via the Nest Hub (2nd gen) or Nest Hub Max and yell out "stop digging" or "drop the lizard."
Q: You mentioned Google Nest products. What are some of the things only ADT customers can do with those devices?
A: That's a great question. I think it's important that customers know about features that are unique to ADT subscribers who integrate their systems with Google Nest devices — features that can make their homes smarter than ever.
For example, ADT customers can now control their ADT smart home security systems simply with their voice by using their Nest Hub Max or any other Google Assistant-enabled device. They can arm the system, turn on lights, open and close blinds and so much more without lifting a finger.
Additionally, every ADT customer with a Video or Complete Service Package receives a Nest Aware subscription automatically included with their service. This gives them 30 days of additional storage space for video content, so they can keep a close eye on their homes from near or far and not have to worry about running out of storage.
Q: What tips or tricks do you have for customers looking to get the most out of their ADT smart home security system?
A: I'm a techno geek who pretty much has an entirely voice-enabled, presence-aware home. Setting up rules and automations has made my everyday life a little easier. I have my lights programmed to turn on and off with the sunset and sunrise and I have a routine that automatically locks all my doors and closes the garage door at midnight, just to name a few.
That's one of the things that I think is so cool about an ADT system. The same devices that help protect your home also make it more helpful. The motion detector that triggers an alarm is the same motion detector that can turn on a lightbulb.
But an ADT smart home can do more than help keep you safe. Nest thermostats can help save money on heating and cooling bills* and the Nest Learning Thermostat can learn your preferences and routines to program itself automatically.
I also encourage customers to take advantage of the many fun lifestyle features that Google Nest devices offer. I love listening to music on my Nest Minis. My Nest Hub (2nd gen) doubles as my streaming photo gallery. I just enabled the Halloween chime for the Nest Doorbell. I have a safe, smart and fun home and I want that for all of our customers.
Q: What's coming next for ADT customers?
A: I couldn't be more excited for the future launch of ADT+ in our self-setup channel. This new platform will introduce a more seamless experience between ADT and Google. Be on the lookout for more details about ADT+!
Q: What excites you most about the future of ADT?
A: It has to be the increased level of customization and empowering our customers to get the most out of their smart homes. And we're just getting started. There are seemingly endless possibilities we have for rolling out even more exciting features and functionalities. We're not just building integrated products. We're building integrated solutions essential to everyday life. Soon you won't be able to imagine how you lived without them.
For more information on ADT's safe, smart and sustainable solutions, click here.
* Independent studies showed that Nest thermostats saved people an average of 10% to 12% on heating and 15% on cooling. Individual savings are not guaranteed. Click here to learn more.