As the 18 million U.S. veterans are celebrated this Veterans Day, ADT is making sure its 2,000-plus team members with military experience are embraced and honored, today and every day. Part of that support includes ADT's Veterans Business Employee Resource Group, which focuses on improving the well-being of the veteran community.
Don Young, ADT's Executive Vice President and Chief Operating Officer, who served as a computer programmer analyst in the Air Force, says he is proud of the company's award-winning veteran efforts, which include ADT Commercial's recent HIRE Vets Gold Medallion Award from the U.S. Department of Labor, and a place on Forbes' America's Best Employers for Veterans 2022 list.
ADT's veterans group provides community, professional resources
Internally, ADT's Veterans Business Employee Resource Group (BERG) offers veterans a chance to build camaraderie at the company and helps them find sponsors who can aid in their successful transition from the military. 
"I'm most interested in learning the stories from other veterans in our company and those that want to be part of this," said Young, who is the executive sponsor of the Veterans BERG. "I want to share my journey, certainly, but I want to learn their journey and see how I might be able to help them.
"I want them to be able to prosper and advance their career goals, and I think we can build a community of veterans within our company to help each other advance."
Young said ADT's goal with the Veterans BERG is to create a straightforward support tool that veterans can engage with.
"Every organization has its own way of making it simple and frictionless for the intended audience to participate. And that's what we are trying to do with the Veterans BERG. We want our veterans and their supporters to enjoy their experience with getting to know more about our BERG," Young said.
Life-long lessons from military service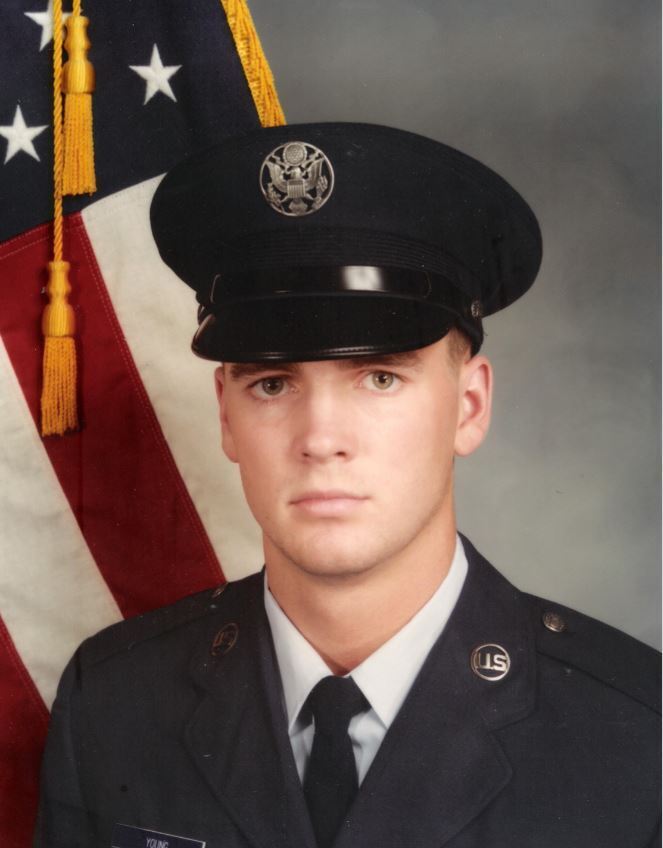 Young's journey to the Air Force started with a family suggestion. His cousin was already serving at the time and told him about the advantages of joining the Air Force. 
Young was attending an expensive college at the time and he learned from his cousin that he'd have the opportunity to continue his education, have it paid for by the USAF, get paid to work in the field he was aspiring toward and serve his country, all at once.
Before Young could get to the hands-on programming experience, he had to complete basic training.  He says that basic training was taxing, tiresome and tough, but well worth it once he started software training in Biloxi, Mississippi.
"I was trained by taking the same type of courses I took in college on programming software for six months and all of that counted towards my degree. And after completing my training, I started working immediately at Tinker Air Force Base in Oklahoma City. I was a computer programmer for the next 3 1/2 years before I was given the choice of either staying in the military or enter the civilian space," Young said.
Young enjoyed the opportunity the Air Force provided and believes his military experience as a young man shaped him.
"When I was in the military for those four years, I learned lessons that have stayed with me literally my entire career and have contributed more to my success than any other time in my adult life," Young said.
Supporting the transition to civilian life
Young was honorably discharged in 1988 and his transition to civilian life was eased Thanks to high demand for software engineers and his passion for technology. He received multiple programming position offers and was recruited by SecurityLink due to his military background. Young led a team in call center operations and has been in the security industry ever since, joining ADT in 2016.
But he also knows some veterans don't transition to a civilian career path as smoothly. Sometimes veterans need sponsors to help them with their journey. ADT aims to include current or former military service members into each class of its 12-month leadership program. The leadership program gives participants the opportunity to expand their leadership skillsets through hands-on training, mentorship and career development with internal executives and outside consultants.
"I believe it is very similar to a college graduate," Young said. "You want to find sponsors. Sponsors are really the key to getting the kind of job that you want, the career growth that you want, the advancement that you want, or maybe just the happiness in your job that you want."
Learn more about ADT job openings here. ADT thanks all military personnel for their service.