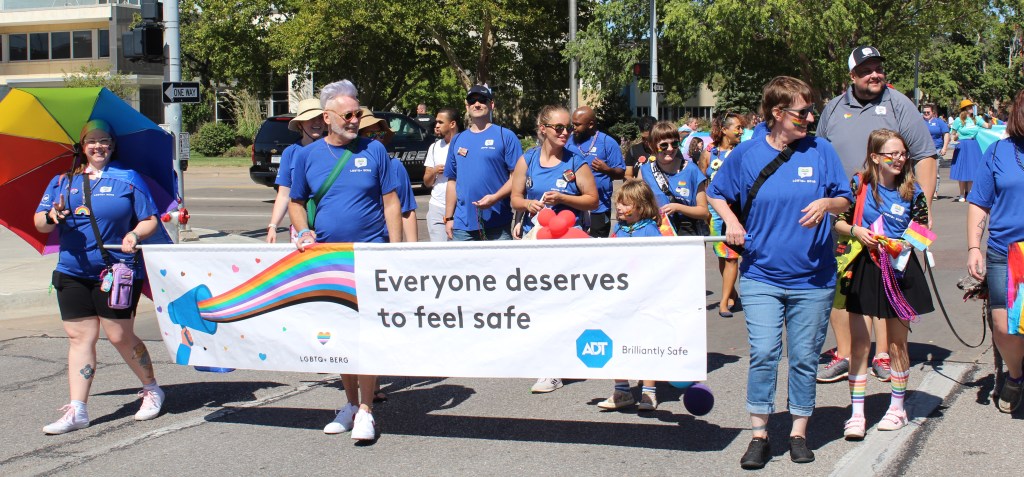 The month of June holds a deep personal significance for my partner and me, as well as ADT's LGBTQ+ employees and their allies. 
Pride Month celebrates the history of the LGBTQ+ equality movement and honors the brave individuals who paved the way for a more inclusive society. It is a time to honor their legacy, reflect on the incredible progress of LGBTQ+ rights and continue to work to overcome discrimination.  
ADT's LGBTQ+ Business Employee Resource Group (BERG) is one of 10 communities our company has created to foster a positive environment by making our workplace more inclusive for all employees. ​​​​​​​​​​​​​​BERGs are open to everyone. All team members and leaders can join any BERG, and participation is voluntary.  
ADT's LGBTQ+ BERG counts more than 300 members. We'll be at Pride events in Dallas and San Antonio and plan to participate in events in additional cities. Even though society has made historical progress, we're still working to break down stereotypes and misconceptions. Love knows no boundaries, and LGBTQ+ individuals are no different from anyone else. 
My colleagues in the BERG also agree that it's especially important that we show up for Pride.  
"Pride Month is a celebration of identity and inclusion, when people from all walks of life come together to celebrate love, acceptance and equality," said Polly College, ADT Business Continuity Manager and a leader in the LGBTQ+ BERG. "At Pride celebrations, dancing and laughter fill the air, and colorful outfits and spectacular floats steal the show. It is a special time to show the world that love is love, no matter who you are or whom you love." 
Faiz Said, National Video Monitoring Agent, plans to attend Pride in Dallas with other ADT employees and his wife, Salina. His biological family lives in Singapore, "so I have built my chosen family in the U.S., and most are from ADT," he said.  
Ryan Lewis, ADT Senior Manager of Customer Retention, said Pride is a chance for his family and friends to reconnect with the wider community and support one another. He looks forward to the August Pride event in Ann Arbor, Michigan.  
Pride month is not just for ADT employees who identify as LGBTQ+. Jackie Ann Conklin, ADT Sales Manager and LGBTQ+ ally, has attended many Pride celebrations. She said that it's one important way she has supported her two moms, who celebrated 34 years together in May, and the larger LGBTQ+ community.  
David Smail, ADT Executive Vice President and Chief Legal Officer who also serves as executive sponsor of the LGBTQ+ BERG, added that, for allies, Pride "is an invitation to be open-minded and supportive, to stand with ADT's LGBTQ+ employees and embrace diversity. Being an ally means being a voice for those who might not be able to speak out yet and providing resources and assistance to those in need." 
June is an important month for the LGBTQ+ community, especially our BERG at ADT. Here's to a great Pride!  
James Sweet (he/him) is the Director of Inclusive Diversity & Belonging at ADT, where he leads initiatives to advance ADTs Inclusive Diversity & Belonging strategy. James and his partner, Kwesi, look forward to attending ADT 2023 Pride events in Jacksonville, Florida, and Palm Springs, California.