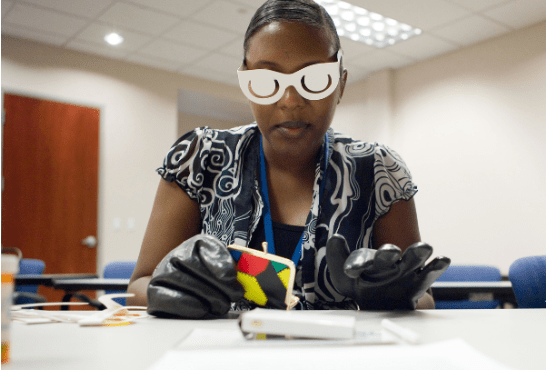 At ADT, our mission is to help connect and protect what matters most to our customers. We're passionate about taking the extra steps to best serve our customers, bring them peace of mind, and help them feel safe. One ADT team that goes above and beyond to serve their unique customer base is ADT Health. As a team that serves mostly seniors, ADT Health agents undergo special training to enable them to provide the best service possible, grounded in empathy and understanding.
ADT Health's primary offering is Medical Alert devices that can be used at home or on the go to help make life simpler and safer for seniors. ADT Medical Alert systems offer customers a direct line to emergency assistance at the press of a button. When the customer needs help and presses that button, the first person they reach is an ADT Health monitoring agent. As the first line of defense, ADT Health agents take pride in assisting customers at any level, from helping them reach a family member to dispatching emergency response.
In order to gain an understanding of what the senior customer might be experiencing on the other end of the phone, ADT Health requires its monitoring agents to experience ADT Senior Sensitivity training. ADT Senior Sensitivity training involves intense preparation to equip ADT Health agents not only with safety and security protocols, but also a full immersion into the experience of being a senior. This training aids agents in becoming more empathetic of the different conditions seniors may experience as they age like deterioration of mobility, dexterity, and vision and overall, produces prepared monitoring agents that are patient and understanding of the customers they serve.
ADT Senior Sensitivity Training
Mobility
During ADT Senior Sensitivity training, ADT Health agents use different tools to put themselves in seniors' shoes. To experience differences in mobility, ADT Health agents use wheelchairs, crutches, and walkers and attempt to navigate through small spaces, use difficult paths, and carry different items.
Vision
They wear five different pairs of special glasses to mimic vision issues common with aging like Glaucoma and cataracts. While wearing the glasses, agents attempt to perform tasks such as reading off a page, writing, selecting specific pills out of a bottle, pressing a button on their ADT Medical Alert system, and walking around obstacles.
Dexterity
To mimic the effects of aging on dexterity and conditions like arthritis, ADT Health agents use special gloves and to try to perform everyday tasks like putting on a shirt with buttons or fastening a zipper, shuffling playing cards, and opening pill containers.
ADT Health agent Ashley Pruitt experienced ADT Senior Sensitivity training when she joined the ADT Health team nine years ago and is now proud to be a trainer for incoming agents. "When we're on the phone with a customer, it is so important that we are understanding of whatever they may be going through. Senior Sensitivity training helps us gain the customer service skills and patience to allow us to take our time and make sure ADT Health customers are taken care of and safe," she said.