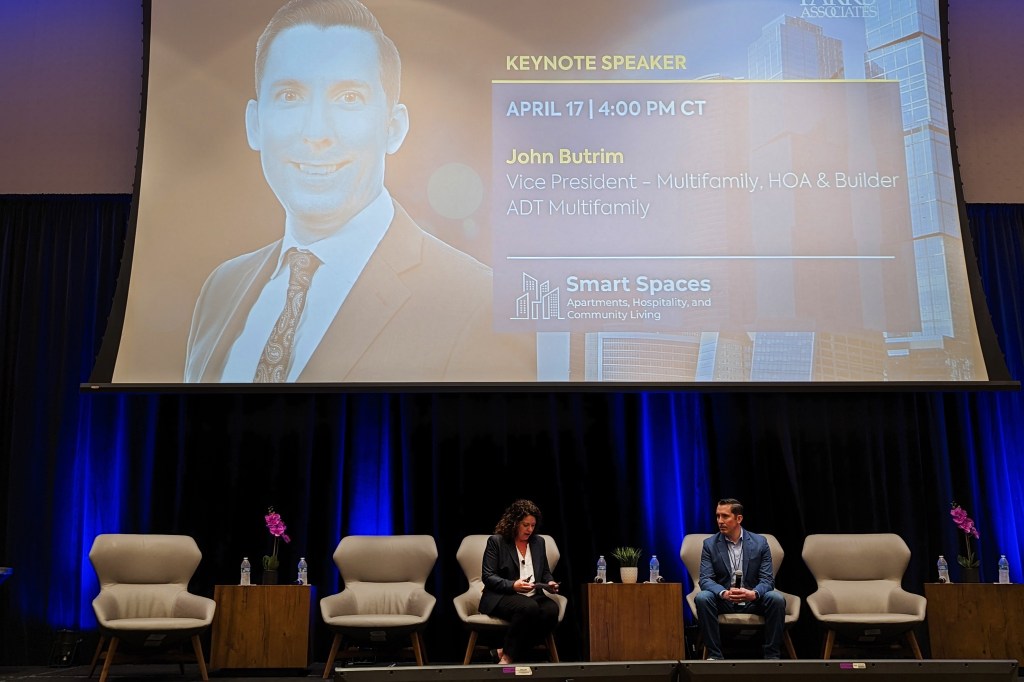 ADT's trusted, smart home technology extends to smart communities, and ADT Multifamily continues to help properties save money and provide renters with added peace of mind. That message was delivered by John Butrim, Vice President of Multifamily, HOA and Builder, in a keynote speech at the recent Parks Associates Smart Spaces conference.  
It is a good time to be innovating in the multifamily market. The opportunities are substantial, with construction continuing steadily compared to the average before the pandemic. That is especially true in metro areas, and "consumers living in multifamily units are more likely to be technology innovators than those living in all broadband households," according to a Parks report.  
In this Q&A, Butrum shares additional insights on how ADT Multifamily is taking advantage of these trends.  
Q: What can property managers expect to gain from installing smart home technology in their properties? 
A: In 2018, we worked with a partner who decided to install smart locks, smart thermostats and security in 6,000 units. At that time, their driving factor was increasing revenue through increased rent. When we revisited the client six months later, we asked how the revenue generation was going. The client said they were hitting their revenue targets and were saving more money operationally than gaining revenue. That is when it clicked for us that we wanted to dig more into this. 
Q: Where are the savings coming from? 
A: There are big savings with labor. At that same property mentioned before, we were in the leasing office, and they got a call from a resident that their air conditioning wasn't working. The agent could go onto their dashboard and see when the resident had turned their AC on just minutes prior. What ADT had in place saved them from calling a maintenance worker to visit the residence. 
With smart locks, even if a maintenance worker did have to enter an apartment for another reason, there is still massive time saved from pulling keys. They would have a unique code to enter the unit through the smart lock, which also helps give the residents information about when maintenance entered and exited their unit.  
Q: What does ADT provide when it comes to peace of mind? 
A: Of course, we offer monitored security systems that would work very similarly to one in a home. We're also taking it further by integrating SoSecure by ADT into the IOTAS app. This is the same platform programming as our partnerships with Uber, Lyft, and DoorDash, where drivers and riders can get help from ADT if they feel unsafe. Now, the safety we help provide to the resident goes beyond the unit's four walls and is with them wherever they are. It's also a huge benefit to the property staff. 
Q: How are you driving engagement with the technology you install? 
A: Training is huge for us. Our dedicated team goes out to each property for a rollout, bringing a taco truck to attract residents to try out and learn how to use the systems in their homes. And because turnover in a leasing office is so high, we must continue providing this training to ensure we reach residents. To do that, we've assigned a specific team member per community to drive both property staff and resident engagement. The more a resident is engaged, the more likely they will stay at a property longer. 
Q: What is next for ADT Multifamily? 
A: I'm excited to see ADT Multifamily's continued growth in the Single-Family Rental (SFR) market, where we provide all the benefits of smart home technology plus monitored security. Not only do these services greatly benefit the residents and property managers, but they can also deter squatters from entering a vacant home, a unique challenge for SFRs. Our offerings, backed by more than 6,000 field technicians and 24/7 customer support, make us uniquely qualified to support the SFR market.