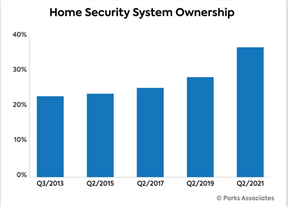 A growing number of consumers are buying home security systems and they are more likely to sign up for professional monitoring, according to new data from Parks Associates, a market research company that focuses on emerging consumer technology products and services.
Home security system adoption by households with broadband Internet service jumped to 36% in the second quarter of 2021 (the most recent period in the report). This is up from 27% in 2019.
"The uncertainty caused by COVID-19 has heightened consumer anxiety about the safety and security of their families and homes and expanded the volume and type of consumers searching for safety-related home solutions," the report determined.
Households strongly agreed with the research statement: "I am far more concerned about the physical security of my home than I was five years ago."
Additionally, professional monitoring service subscriptions have increased by more than 73% during the past five years*. Consumers associate professionally monitored systems with safety, theft protection, and detection around their homes—giving them greater peace of mind. Consumers like the comfort of knowing that their system is being monitored by professionals, in case there is an emergency.
As the pioneer in security and professional monitoring, at ADT, we continue to innovate and enhance our professional monitoring offerings to help make communication between all those involved in an alarm event more impactful and effective. Most recently, we developed the next generation of home security monitoring platforms, called SMART (System Monitoring and Response Technology). The SMART Monitoring platform includes several technologies and platforms working together to get ADT's professional monitoring customers help faster.
"By adding SMART technology to our ADT professional monitoring process, we are significantly helping impact alarm efficiency as alarms reach first responders 8x faster vs traditional voice handling speeds," said Larry Folsom, SVP and Chief Monitoring Officer. "When it comes to an emergency, response times can make all the difference and that is why professional monitoring remains the most effective way to protect the things that matter most."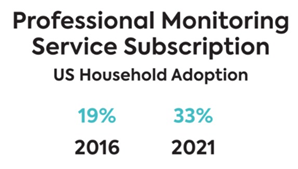 The benefits of professional monitoring are clear:
24/7 Always-on: Professional monitoring provides customers with around-the-clock monitoring should their system detect an issue (e.g., fire, carbon monoxide, break-in).
Speed: In case of emergency, professional monitoring agents can quickly connect with customers and alert emergency services.
Professionally Trained Agents: Professional monitoring centers are managed by professionally trained agents who know exactly what to do in case of an emergency. They are also able to help counsel customers in emergency situations and provide support while the customer waits for emergency services to arrive.
Always-on professional monitoring is the best choice for those who want to keep their loved ones and homes safe and protected. As the pioneer in professional monitoring for more than 147 years, it is no surprise that ADT is the most trusted name in security.
For more information on ADT's professional monitoring offerings and to customize your own security system, please visit. www.adt.com/shop.
*Parks Associates: Home Security: Choice is the Ultimate Value Proposition