by: ADT Newsroom Staff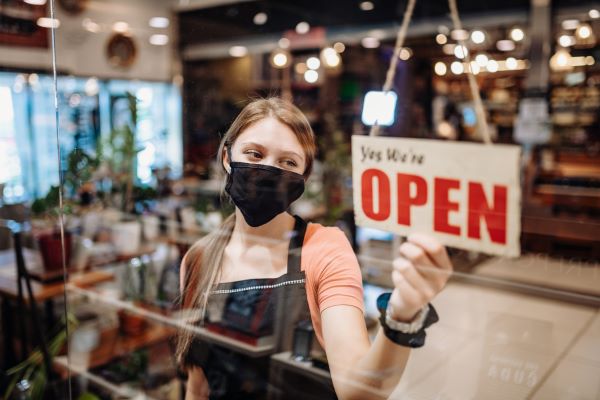 From Wall Street to Main Street, business owners are starting to prepare and look toward the future as the pandemic turns endemic. Businesses across the United States are welcoming employees and visitors back into their restaurants, storefronts, and offices. But now, a new challenge persists - staffing shortages. As many businesses struggle to hire, they also need to focus on how to retain and keep their current staff safe and healthy.
So, what can be done?
It's more important than ever that business owners take on a more proactive role to think about the risks that could impede their businesses, and how they affect staffing levels - before they occur. Business owners should assess their options including resources like an automated security system that could not only help protect their business but also help them stay afloat with a lighter staff.
Video surveillance and business analytics: ADT Business is now offering CSVR (Commercial Streaming Video Recorder) to customers. This unique offering in the business security space goes beyond basic video surveillance to provide business owners with crucial data including queue monitoring, occupancy tracking, people counting, crowd gathering, and heat mapping that can help them improve operations. With CSVR, a business's security system can provide smarter insights, automations and notifications, robust reporting, and ultimately help business owners clearly understand what their staffing needs are and what time of the day they need more or less staff.
Video doorbells: Video doorbells allow business owners to verify the identity of guests, employees, and vendors from virtually anywhere, 24/7.  In these days of staffing issues, the video doorbells can reduce the need for employees to watch the front door while freeing them up to perform other tasks.
Access control: Security systems with access control can help with delivery management, allowing for no-contact deliveries and confirmations. In addition, badging systems can help provide tracking, improved efficiencies, and enhanced security. They can also help with contact tracing should an employee contract COVID.
Instant alerts and activity reports: With an automated security system, business owners can get instant alerts to keep them up to date on what is happening at the business while they're away. This helps owners stay in control even with reduced staffing or while new employees are being trained.
Professional monitoring: Security systems with professional monitoring can help save lives and protect property, whether a burglar alarm or a fire alarm is set off in the business. When an alarm sounds, a live person will respond immediately and ensure emergency services are on the way. This can give business owners peace of mind while they are away from their business, knowing that their livelihood and life's work is always protected.
ADT is committed to working with business owners to show them how to harness the power of smart technology to make their workplaces safer and, in turn, prevent their businesses from losing productivity.