I went to high school in Baltimore. I went to college in Baltimore. I bought my first house in Baltimore. I know Baltimore is dope, but the challenges it faces aren't.
The city has historical neighborhoods teeming with all sorts of talent, and is geographically in the middle of the eastern seaboard with rail, a port and two airports nearby. But Baltimore is also home to the first race-based housing segregation laws. The city's current high poverty concentrations can be traced back to those ordinances.
My house is in the West Baltimore neighborhood of Heritage Crossing. Before buying my house, there was a push to tear down the neighborhood's housing units and develop luxury townhomes and condominiums.
The residents fought back in court and won a guarantee to maintain low- and moderate-income housing.
That's when my journey into community activism started. The undue hardships we face provoked me. I couldn't simply sulk. It's not how I was raised. I come from a household where you couldn't bring up a problem without a solution. That is how Fight Blight Bmore was born. It's a way for me and others in my community to understand what blight is, how it came into being and how to install solutions to fight it.
Our work centers on our lived experiences as residents of blight-plagued neighborhoods. Our focus is providing data analysis, historical context, policy advocacy and community development support.
For example, we host workshops to explain the importance of estate planning. Many people think estate planning is for wealthy people like Jay-Z and Warren Buffet. So we don't call it that. Instead, it's called a family continuity plan, and we explain how it reduces inheritance issues. A family continuity plan allows our community members to build generational wealth and retain affordable housing.
We also co-created the SOS Fund with Parity, an equitable developer. The fund helps homeowners facing property tax and ground rent foreclosures, tangled titles or deferred maintenance issues that cause homes to become blighted.
We have raised more than $150,000, and directly helped 90 homeowners reduce or clear debts. But we can't bake-sale our way out of blight. We advocate for policy changes towards tax sales practices and other policies causing neighborhood harm. Our hope is to create a lasting effect that lowers the city's blight and displacement.
We also want to show people a vision of what Baltimore could be. That's where ADT's generous donation comes in.
The $100,000 that Fight Blight Bmore received from ADT will help turn an idea into reality.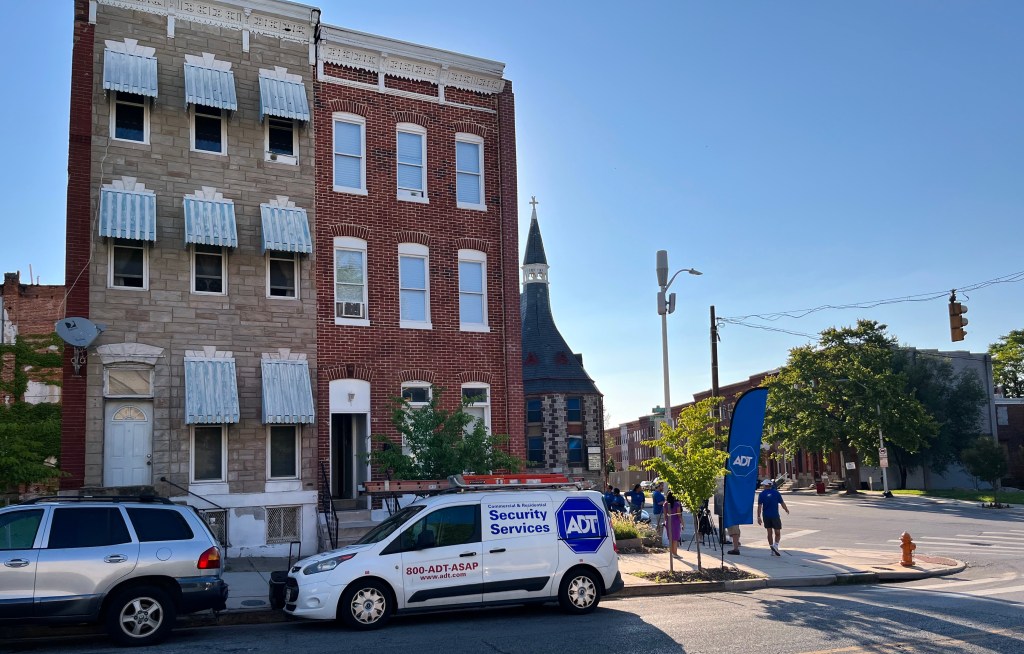 In 2017, I bought a blighted home in the Upton neighborhood with plans to develop it into a multiuse space. We call it The Hack Hub. It will provide space for micro-retail, a business office, an affordable apartment unit and community education with a science, tech, engineering, arts and math focus.
Outside, we have upgraded the garden and added community donation boxes filled with canned goods and books. Carver Vocational-Technical School students in the Requity program built the boxes and our ADT friends helped install them. We are curating a space that brings economic vibrancy, stability and safety.
As more people see what a small, committed group of people can do in Baltimore, more will start believing this city can be blight-free without displacing existing residents.
Right now, the amount of blight in Old West Baltimore ranges from 10%-25%, depending on the specific neighborhood. Once that rate dips below 5% and legacy residents are still enjoying their homes, we will claim victory.
The SOS Fund, family continuity plan education, and Parity's affordable housing options may still be needed. But Fight Blight Bmore will not.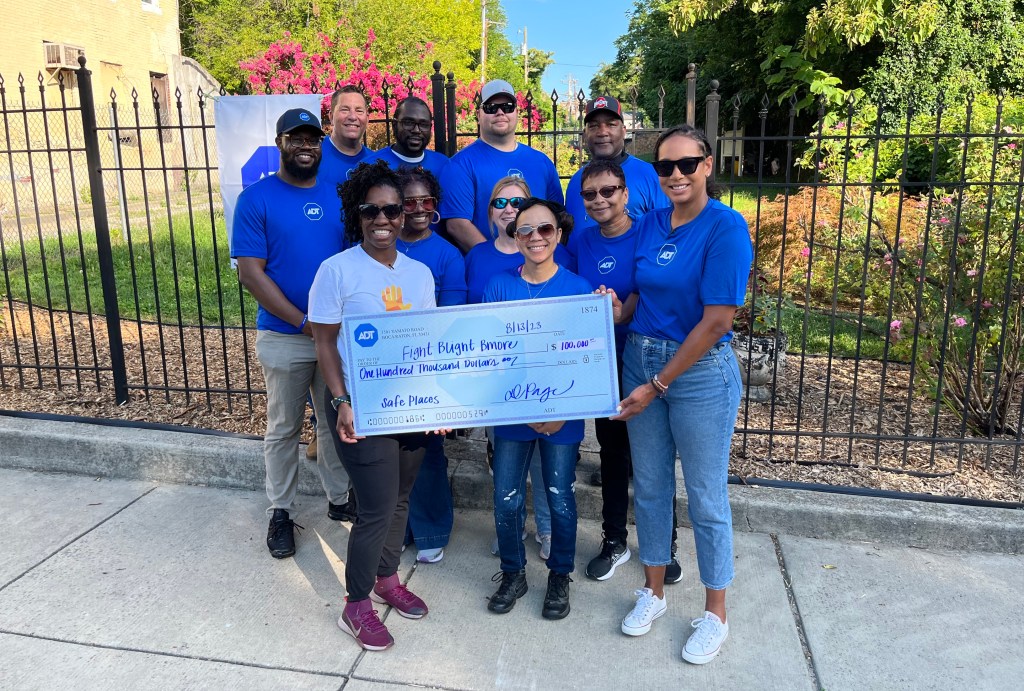 ADT's donation of time and money helps develop a more complete neighborhood. It is a seed for an equitable Baltimore.
ADT's investment in its founding city shows an understanding that it takes everyone to reduce blight. There is no silver bullet.
It takes money, partnerships, vision and hard work to recover. Remember Baltimore is dope because of the people. And all of its residents deserve neighborhoods that are safe, smart and sustainable.
---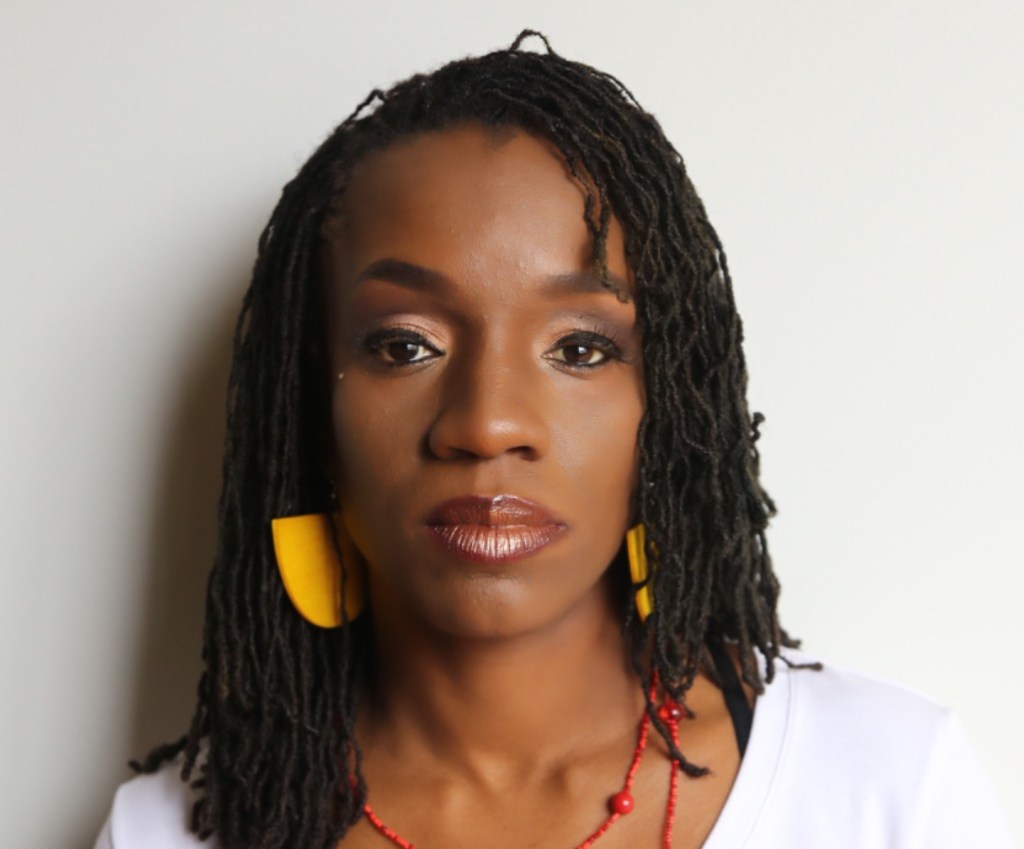 About the author
Nneka N'namdi, the Founder and CEO of Fight Blight Bmore, has a passion for community activism. She works to draw attention to the effects of neglect and educate the community to prevent future blight and displacement. Baltimore has more than 15,000 buildings in disrepair and another 16,000 vacant lots. Fight Blight Bmore seeks to dramatically lower that number without sacrificing accessibility and affordability.