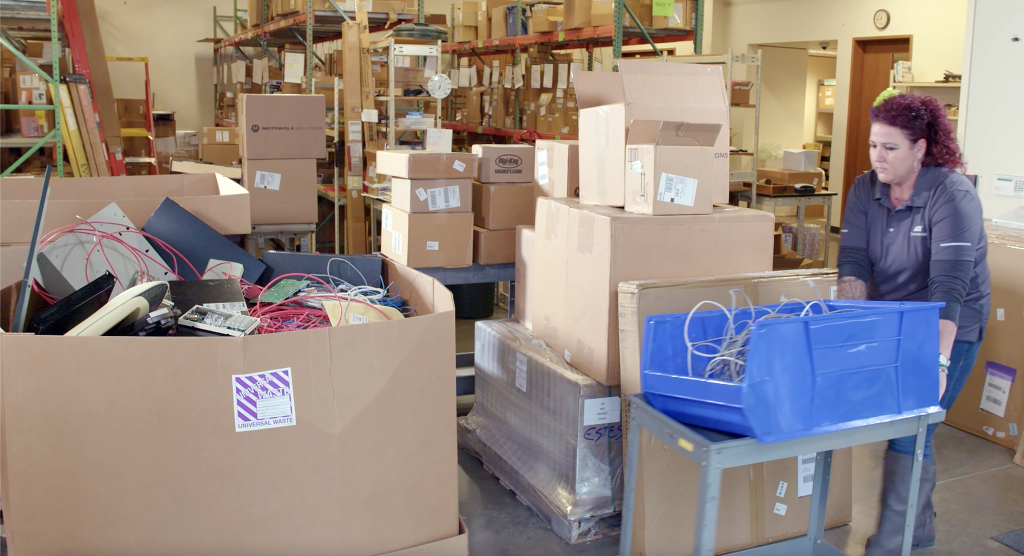 Seattle is called the Emerald City for its abundance of trees, but an ADT branch in the region is celebrating being green in a different way — with a robust electronic-waste recycling program that earned an "exceptional" rating during a recent audit by ADT's Environment, Health & Safety team.
"One of the responsibilities that we have here is to make sure that none of the e-waste is in the warehouse for more than six months," said Nicole Crim, ADT Commercial Materials Supervisor.
She describes the process used at the facility near Seattle to sort and recycle the waste ADT technicians collect on the job.
"The technicians come in and regardless of what type of waste it is — whether it's e-waste or wires, batteries, caulking, adhesives — they're all bringing it in here into the warehouse sorting area. From there, the material handlers are coming into here, sorting it and weighing it daily. And then they take it into the waste accumulation area," Crim said.
Waste classification stickers are applied to sorted boxes to ensure the recycling vendor, New Market Waste, sends each stream to the correct recycling facility.
"Washington is a huge green state and it takes every little bit to make that possible for everybody," Crim said. "And this might be a small portion of it, but it's how we can involve ourselves in it. And we're super proud of the process and the work we've put into it here."
ADT's efforts to reduce e-waste comes at a time when device use and disposal is increasing. While most cities don't offer e-waste recycling as part of their curbside programs, the EPA offers a list of firms that accept old electronics.
ADT is proud of the steps it's taking to be a smart, safe and sustainable company. Read more about the company's Environment, Social and Governance progress, as well as its effort to reduce carbon emissions with more efficient trash collection and the availability of virtual technician support.